Everyone who has been, or even hasn't been for that matter, to Thailand has heard of the (in)famous 'Full Moon Parties' which take places across a number of the islands in the south. Most of these are known to be beaches crowded with tens of thousands of drunk people from all over the world, insanely loud music, and mayhem.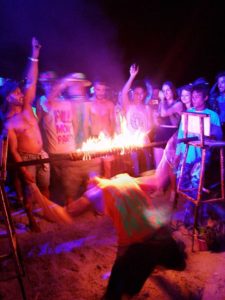 Well that is pretty much what it is. It is even known to be quite dangerous with incidents ranging from people dying from overdose or drowning to being pickpocked/mugged or even hit by stray bullets.
Why would I recommend you brave it at least once at least in your life?
Because it's extremely entertaining; It is rare that one will get to see so many nationalities partying together in a single location. The diversity is something to marvel at – From Turkish Canadians to Chinese New Yorkers, to a Scottish Guy who did a stint at Port Qasim 10 years ago because he happened to work on a ship- you can just about find anyone from any corner of the world here.
The most famous one takes place in the Island of Koh Phangnan. I had the opportunity to be here for 2015 new years eve. Which was estimated to draw over 30,000 people to Haad Rin Beach.
There are however certain precautions which you must take while attending one of these.
Booking your trip
Assuming that most people will be staying on one of the major Islands ( I was at Koh Samui) – you are likely to need a ferry or a speed boat to get to the destination. Make sure that you pre book your ferry or speed boat tickets at least one day in advance as prices tend to rise as the dates of the full moon draw closer. The rates for the speed boat can range from anywhere between 700 Baht to 1300 Baht depending on how close to the event you are doing the booking (and on how well you can negotiate) They usually pick and drop you from and to your hotel within these charges so make sure you verify that from the vendor.
Ferry or speedboat?
One of the choices you might have to make is to get there by either speedboat or ferry. While the ferry seems like the safer, more sturdy choice – the speedboat, (although much bumpier) will get you there in about 1/3 the time, and cheaper too.
Another advantage of the speedboat is that it leaves to and fro from Koh Pagnan every one hour whereas the ferry has fixed timings – usually leaving every 6-7 hours- which means that once on the Island and if you miss the 1 am ferry the only other chance you will have to go back is at 8 am. That is fine if you want to stay on the beach all night, but if you would like to back on your main island at a reasonable time of your choice then speed boat is the way to go.
On the boat
Make sure that the boat vendors provide you with a life jacket, and also if you want to avoid the risk of getting your clothes wet while on the way,  ( water tends to splash into the speed boat) get one of those wearable plastic rain jackets (Once used they can be folded to easily fit into any small handbag) Make sure you buy them in advance from any 7-11 and not at the pier since over there they will be over priced.
What to wear
This is very important. Full Moon parties don't take place in fancy clubs – they happen on the beach. Wear comfortable cotton clothes shorts/pants and a funky t shirt and you are good to go. I will not recommend wearing jeans or closed shoes or anything that is difficult to dry off. Many times you will need to jump off the speed boat at the pier into knee deep water and wade till the shore. So forget about wearing those fancy pencil heels and just go with comfy rubber flipflops ( No one will really notice your shoes there anyway since everyone is wearing similar clothing)
What (and what not) to carry with you
Do NOT carry your passport with you. It has the chance of getting wet with the water or even stolen (pickpocketed) if you are not careful. If you really do want to carry some ID ( they don't really check though) then you should make a colured photocopy with you (laminated)
Do NOT take more cash than what you require. About 1000-1500 BHT for the event should suffice in case you want to eat something there, or purchase some souvenirs. ( If you are intending to purchase drinks there then you should keep about twice as much)
Keep a shoulder strap bag with you ( the kind that you an wear crossed over yourself) it is the safest way to keep a tab on your things in the crazy rush
Keep a hold the entrance ticket or band that they provide you with. Before you enter the beach area you are given a tag or a bracelet which signifies you have paid the entrance fee to the party ( usually not more than100 BHT)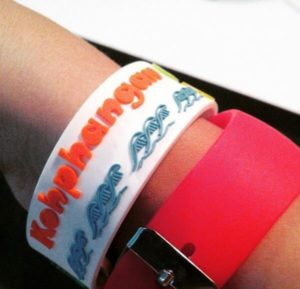 Other precautions
I am not the drinking sort ( I can even get high on mineral water) but if you are then do make sure that you purchase your own drinks from sealed bottles and never under any circumstances offer a drink that a stranger might offer you. ( People have known to have been drugged and then have gotten their valuables stolen)
Do not purchase weed, or any other recreational drug that anyone might offer you there. The law is pretty strict about this and has extremely heavy fines. Tourists tend to fall into this trap so be wary of it – get high on life and music instead!
Stay in groups. Although most of the people there simply are in their own mode and will be busy dancing and partying single girls or girls in small groups are likely to have some unwanted advances coming their way. Never give away the fact that you are travelling alone in such places – always say that you are part of a group or that your friends are also present a the same party. Since there were just 2 of us when we went we made friends with a really nice group of South Americans who we made friends and hung out with – we felt much safer as they were part of a group of 4-5 people.
Getting back to your main island
The speedboat lines to get back to your own island are pretty long – the rush really stats at around 1 am. Note that it will take you about 1 hour standing in line before you get your chance on the speed boat. It's a little tiresome to wait there but you will just need to deal with it.
The people standing in lines are often approached by vendors who claim that you can skip the line and go back in a "Taxi Boat" – these are better avoided as they charge you a ridiculously high amount to get you back ( starting from 1000 BHT) and there is no guarantee of how safe these actually are.
Don't let the above tips intimidate you – this still is one of the biggest and most famous parties in the world. Worth seeing once simply for the ambience and energy that it has. All you need is a bit of common sense and it can turn into a night to remember!