Lonely Planet calls it a 'safe haven in a sea of conflict riddled regions.'
Having a rich history of both Christianity and Islam, and a wide array of world heritage sites, Jordan has fascinated visitors for many years. From Roman amphitheaters, to Martian-like desert landscapes, to one of the most unique bodies of water on the planet – the Dead Sea.
It has increasingly becoming popular as an up and coming "Instagram Worthy" tourist spot with travelers and travel bloggers around the globe flocking there to explore the ancient country.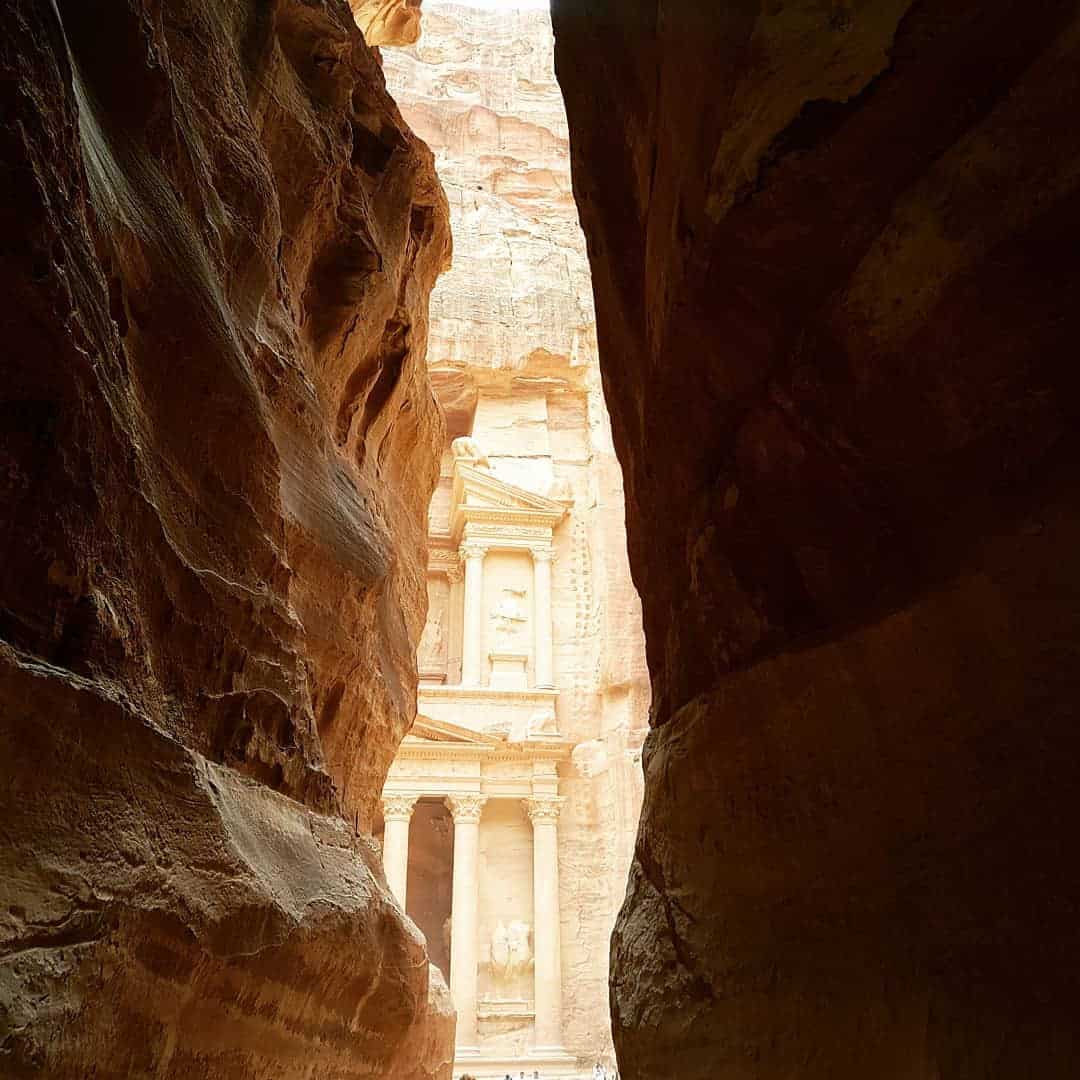 My own inspiration was driven by seeing amazing photos of Petra and so I planned the trip with a cousin and we went in late March 2018. I was really busy with work before the trip, so I didn't get a chance to research much beforehand, we just booked a trip with Bedouin Life Tours whom we entrusted with most of our planning.
Jordan is safe for travelers
I would like to reiterate this here simply because this appears to be a broad misconception. Jordan is actually one of the safest and most tourist friendly countries in the Middle East. Their government displays this by maintaining diplomatic relations with all its neighbors. Its hospitality shows not only in the way they greet all tourists with a smile, but also in the way they absorb thousands of refugees from the Palestinian Territories, Iraq and most recently Syria.
English is their second language, so communication is rarely an issue. It's the perfect place to get a feel of Middle East where the ancient and the new are at crossroads.
You will need to hire a car and a driver
The transport system is not that developed. There is no train or metro system. The main methods of transport within are taxis are public buses. The most hassle-free method is to hire a pre-arranged car and driver for the same. They are some great tour agencies out there. The one we used was Bedouin Life Tours. They can arrange everything for you end to end, including the tours and a driver who will stay with you throughout your journey. The cars are "Wi-Fi" enabled as well, which basically means the driver keeps his mobile hotspot on the whole time and you can stay connected to it. The 3G speeds were far better than what I have seen in Pakistan even when we were driving though remote areas.
Jordan is expensive
Not only is the exchange rate 145 to a Rupee. Jordan itself is inherently expensive. A bottle of water in popular tourist spots can cost as much as 2 JD which is 300 PKR for a 200 ml bottle! Most tours will cover the cost of breakfast and dinner but to give you an idea of the costs it's as below. Please do note that whenever you can purchase your water/snacks etc. from local grocery stores instead of the kiosks at tourist spots like Wadi Rum and Petra. This may not always be possible but do it whenever you can, it will save you a lot of money over the course of your trip.
Bottle of Water at local grocery store 0.5 JD
Bottle of water at Tourist Resort 2 JD
Regular can of Coke at grocery store 0.5 JD
Regular can of coke at tourist spot 2-3 JD
Small packet of chips 0.25-0.5 JD
Packet of chips at tourist spot 2 JD
Fast food Meal 3-4 JD
Restaurant Meal + Drink 10-15 JD
Souvenir Magnets 2-5 JD each
Skin Products Dead Sea Scrubs 10-25 JD (sometimes there is a buy 1 get 1 free deal)
Its important to note that tips for services are always expected. Jordanians are generally very hospitable and welcoming and will go out of their way to help you. In return it is expected that one provides tips generously. Below are the standard expected tip amounts
Bellboy who carries luggage up to room 2-5 JD
Driver for short term travel example 2-hour jeep ride in Wadi Rum 10-15 JD (on top of the actual tour fee)
Tour Guide for 1 single excursion 10-15 JD (on top of the actual tour fee)
Tips for Meals in restaurants (at least 10%)
Stop Overs to small shops during tours. They immediately serve you a drink or tea even if you don't ask for it. They don't directly ask you for money but its considered polite pay them 1-2 JD per person
Be mindful of local customs
Jordan welcomes people from every country and they are no stranger to Westerners visiting there, the local population however, strongly retains their cultural heritage. People dress conservatively, alcohol is allowed but is extremely controlled and they are extremely respectful of Islamic values as well as the royal family.
As a tourist, is it better to respect these local customs. Unless you are staying an international resort, it is better to dress modestly when visiting local historical sites and be mindful of what you say about the royal family or Islam in general.Public display of affection is also not something you will generally see. If you happen to be vacationing there with your significant other, it's best to keep your public interaction to holding hands or hugging at the most.
Plan your itinerary in advance  
Since you will be driving through the length of Jordan to visit all the places you need to, it's always better to map out your route to minimize drive time. Below is a sample itinerary which can help you make the most of your Jordan visit. The below is an expanded visit of my trip there, so it included what I would have done differently ?
Day 1: Arrive in Amman in the day time – spend the day exploring the city and trying out the local food
Day 2: Drive through Kingsway, explore the historic sites and spend overnight in Petra – experience Petra by night
Day 3: Explore Petra the full day and come back to hotel
Day 4: Explore remaining parts of Petra and come back to hotel by the afternoon- leave for Wadi Rum
Day 5: Arrive in Wadi Rum, explore the desert, enjoy the sunset and barbeque
Day 6: Go to desert safari, explore Wadi Rum in a full day trip including further off parts like the rock bridges etc. – you can even take a hot air balloon ride, come back for a second night in Wadi Rum
Day 7 – Leave after breakfast and head over by road to Aqaba to enjoy and relax at a resort by the Dead Sea
Day 8 – After breakfast leave the resort at Aqaba and head towards Wadi Mujib for an exciting canyon adventure overnight at the resort in Wadi Mujib
Day 9 – After breakfast, head towards a resort at the dead sea. Enjoy the water and the beach and basically chill for the day.
Day 10 – Drive back to Amman for your flight back home.
Edit: A very useful tip given to me by reader Raheel, was of the Jordan Pass.
The Jordan pass is the ultimate sightseeing package that has been especially tailor-made for visitors to the country. It gives pass holders the ability to make the most out of their trip visiting top sights and attractions whilst saving time, money and effort.
Although Jordans' highlights can easily be covered in 5-day trip as well, the above 10-day itinerary will help you fully explore every major attraction the country has to offer.