Fatima Naqvi  is a fellow blogger and has shared her experience of the "Festival of Lights" in Punjab. Read more below!
Mela Chiraghan, also known as "The Festival of Lights" is a three day festival celebrated every year in the outskirts of Lahore, to mark the death anniversary of the esteemed Punjabi Sufi poet and saint, Shah Hussain. Shah Hussain was born in Lahore and is considered a pioneer of the Kaafi (classic form of Sufi poetry) of Punjabi poetry. The festival is celebrated adjacent to Shalimar Gardens, where Shah Hussain's tomb and shrine is located.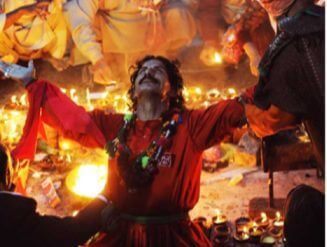 Around half a million people from all over Pakistan come to the Shah's tomb for the festival, where they pay tribute by partaking in various activities, and dancing the night away. The shrine is beautifully decorated with paper and plastic flowers as well as fairy lights. Disciplines also light candles in remembrance of the Shah and carry chaadars which they place on the shrine to show their love and devotion to the Sufi poet. Additionally, they sing various songs and dance to the Shah's Kaafi's and the beat of the dhol (musical instrument). To sustain the noise and excitement, the pilgrims also blow on horns. During the festival, ample amounts of ethnic foods are being served as well as handcraft pieces which are believed to reflect the traditional rituals of Punjabi mystics and culture.
T

he main attraction of the festival is the alao. This area is ringed with tiny oil lamps and candles and devotees approach the fire, dip their finger in an oil lamp and rub it on themselves to show respect. They believe the oil is holy and the lamp represents the light that kills the darkness within.
Furthermore, the pilgrims sit around a bonfire and toss candles hoping their wishes will be granted. The devotees also hold pieces of yellow and red clothes as they believe the colors are a symbol of love. They range from young children to old men, women show up on the third day which is reserved especially for them. At the opposite end of the compound you will see groups of men sitting together indulging in heated discussions while smoking hashish.
Unfortunately, due to the security situation of the country, strict measures are taken every year to safeguard the area where visitors camp out. Regular visitors feel that the crowd has thinned and becomes less and less with each coming year and security guards complain about barbed wires and broken barriers which makes the crowd hard to handle.
If you want to go check out this festival next year you can book your hotel in Lahore now via Jovago. They offer an easy way book hotels all across Pakistan.
Despite all the hindrances, there is still a large crowd that comes out during the last week of March every year to celebrate the festival and leader, Shah Hussain.