Deep in the heart of Sindh lies a little known( but becoming now increasingly popular for tourists) place called Gorakh Hill. It is one of the highest points in Sindh in the Kirthar Mountains, about 94 km from Dadu.
What is so fascinating about this place? It is the only point in Sindh where it SNOWS. (During the winter months of the year) Like a miracle of nature this intriguing spot lies more than 5000 feet above sea level, literally in the middle of NOWHERE hidden in the vast barren interior of Sindh.
I am not going to bore you with Wikipedia copy pasted info on this. Which you can easily read here or here. I am going to instead tell you my first- hand account of this very interesting 40 hour journey which I took to this place.It can be very effectively be summed up into this message written on one of our transport vehicles: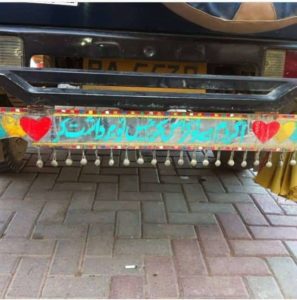 More details on why this is so below:
I first heard about Gorakh Hill on Facebook via tour group called 
Royal Tourism Pakistan
.They were advertising a really interesting offer and were calling it the "Muree of Sindh". Muree of Sindh? Sindh where everything most of the year is scorching hot? This should be interesting.
After some deliberation and minor research I decided to go for it with a group of friends. It turned out to be the most adventurous experience I had had in a long while.
Leaving from Karachi at 1 am, the 7 of us met the rest of the tour group near a restaurant in Gulshan-e-Iqbal and were led into a really large bus.The seats were comfy with a lot of leg room and as scheduled we were off to our destination.
Time: 4 A.M
Place: Hyderabad
Hours into journey: 4
Around 4 am we made a pit stop at what I can assume  was a dhaba near Hyderabad. It was surprising how lively the place was even at that hour of the night?/day?. We got   off the bus to stretch our feet for a bit got some tea ( which basically tasted like boiled sugar) and then were off to the next stop.
Time: 7 A.M
Place: Sehwan
Hours into journey: 6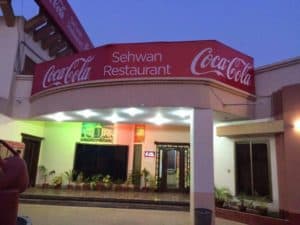 About 7 am we stopped at the famous Sehwan restaurant. Now extremely sleepy and tired we got off the bus to break for breakfast.
 I had heard of this place many times before but never once imagined it would be so 'funky'. Filled with retro style and travel posters it was pretty interesting to look around there. Breakfast was served at around 7:30 am and then we were off to the next stop:
Johi
Time: 9A.M
Place: Johi-Then on to Wah Pindi
Hours into journey: 8
At Johi we stopped and got off the bus. We were told the "real" journey  would begin. Divided into small groups of 4-5 people, each group was loaded into a Potohar and sent off with a driver toward Gorakh Hill. Since we were 7 in total the tour organizers were nice enough to give us the biggest vehicle they had which accommodated all 7 of us plus a driver.  The next 3 hours were the real test of endurance. This is where the adventure started.
Passing by fields of green, which eventually turn to barren brown on severely unpaved roads; the first 2 hours are nothing but  non-stop bumps and rocks. Not recommended for those with back pain or who might suffer from car sickness. If you do, then do make sure you take some meds for it before you start the journey on the Potohar.
Now 2 hours confined in small box like vehicle with no air conditioning is no easy feat. Tired & weary of the dust and heat I was really hoping that whatever the final destination was going to be would be worth it.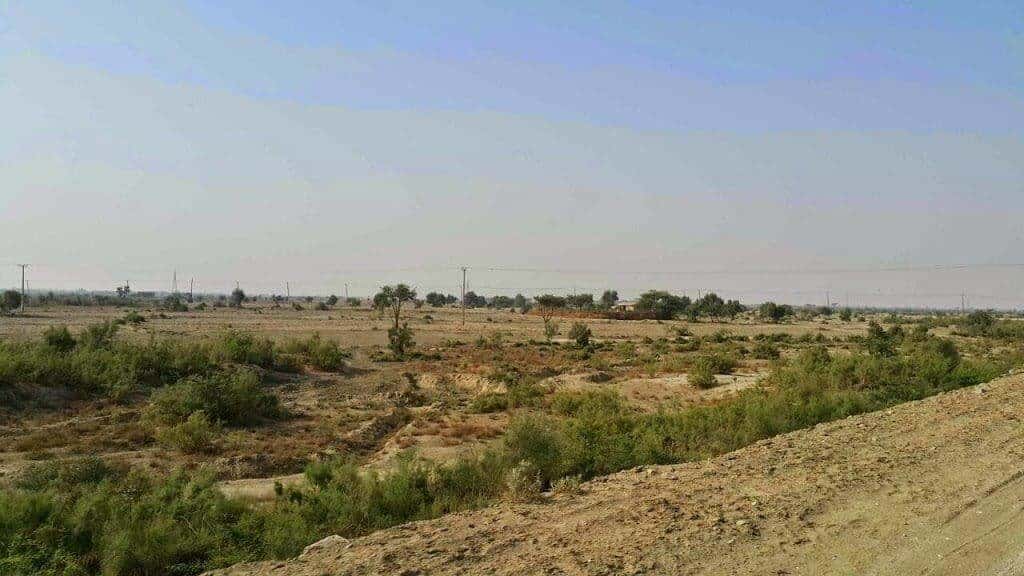 It was when the 3rd hour started that things started to feel different. The air was suddenly cooler. The heat not so suffocating.  The roads were smoother, and we were suddenly on much higher ground then where we started from. We just went higher and higher on top of the hill and as time passed the fascination of looking at a scene like this slowly started to melt all the tiredness away.
We looked down and saw what we had driven up from: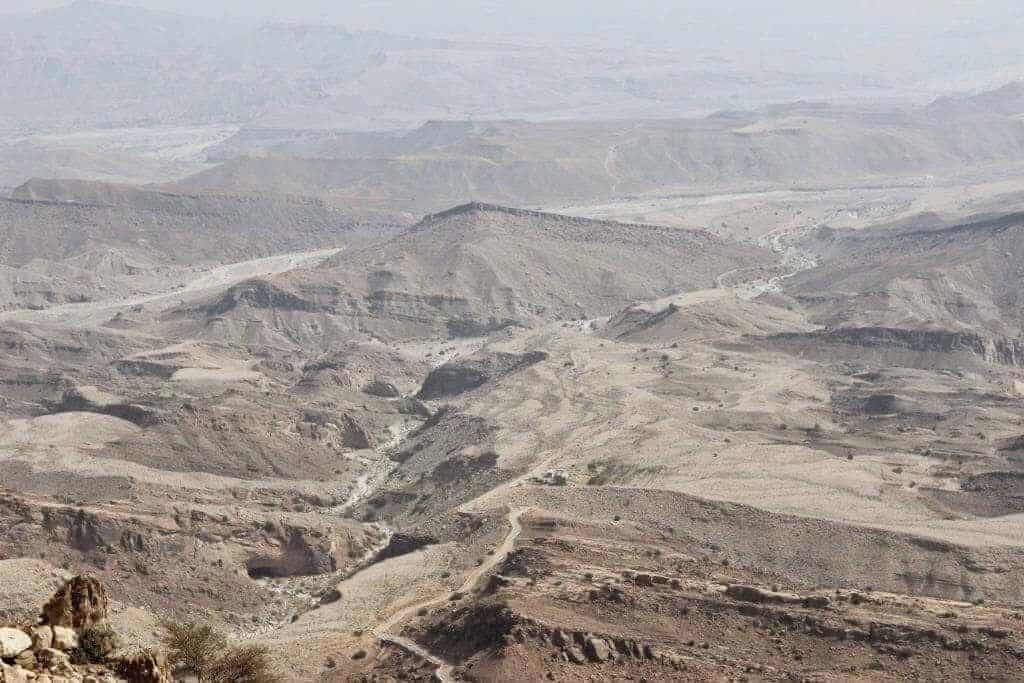 As we went higher up the hill , the views just got more and more fascinating to behold. Had we really driven all that way? It looked like something out of a painting and reminded one of something like the Grand Canyon famous in the USA.
Time: around 12pm
Place: Gorakh Hill Station
Hours into journey:11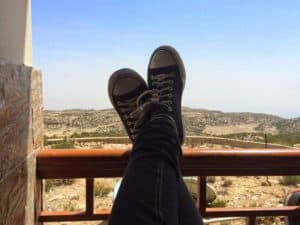 We were finally there. What I was mentally prepared for was were basically camps in the middle of nowhere. This was in the middle of nowhere, but the tiny resort which greeted us was rather pleasant. There were no phone signals there ( except for the occasional flicker of Moblink or Ufone) but there was a PCO where we could call from as well as electricity and running water.
We were given a place to put our bags and then were served tea while we sat on the huge porch  and looked out onto a scene like this
Time: about 3pm
Place: Gorakh Hill Station-Benazir View Point
Hours into journey: 14
After lunch we started to walk around the hill area and arrived at a place at the base of a hill called "Benazir View Point". It was a paved pathway up to a place higher up the hill. Since we were all in the mood for trekking we started walking up the hill. It took about a good 10 minutes walk to get up, I was pretty distracted since I was busy talking to a friend ( We were having this intese conversation about the eating habits of mountain goats) I didn't notice the scene change around me, so I kept walking until I was suddenly shocked into silence when we came upon this: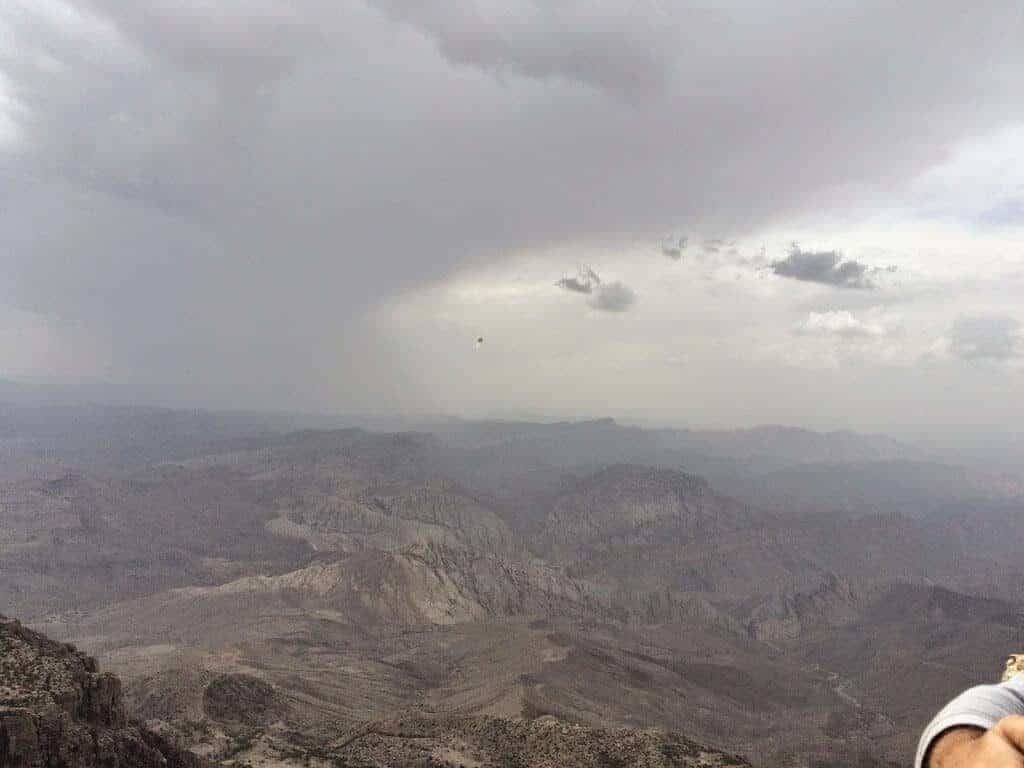 Could this be Pakistan? It looked like a picture that came out of a Wallpaper Image search on Google.Never could I ever imagine that it would look so grand and majestic.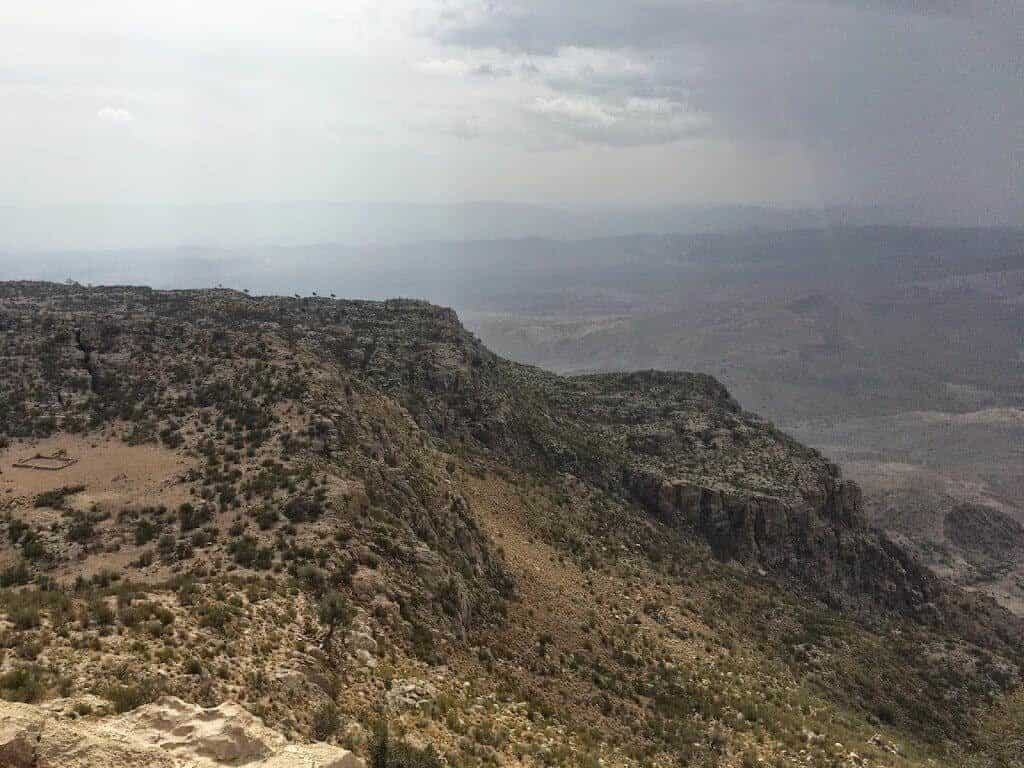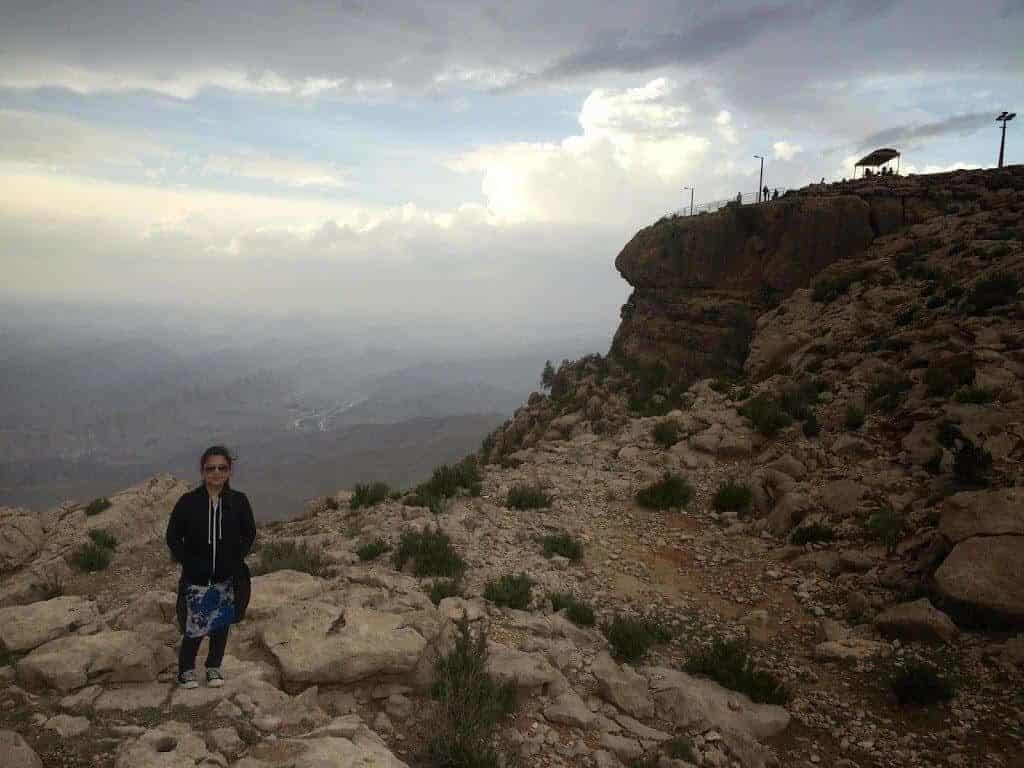 We were walking around the pathway ( which was pretty decent – thanks to Govt of Sindh for doing a good job there) when the the another amazing thing happened…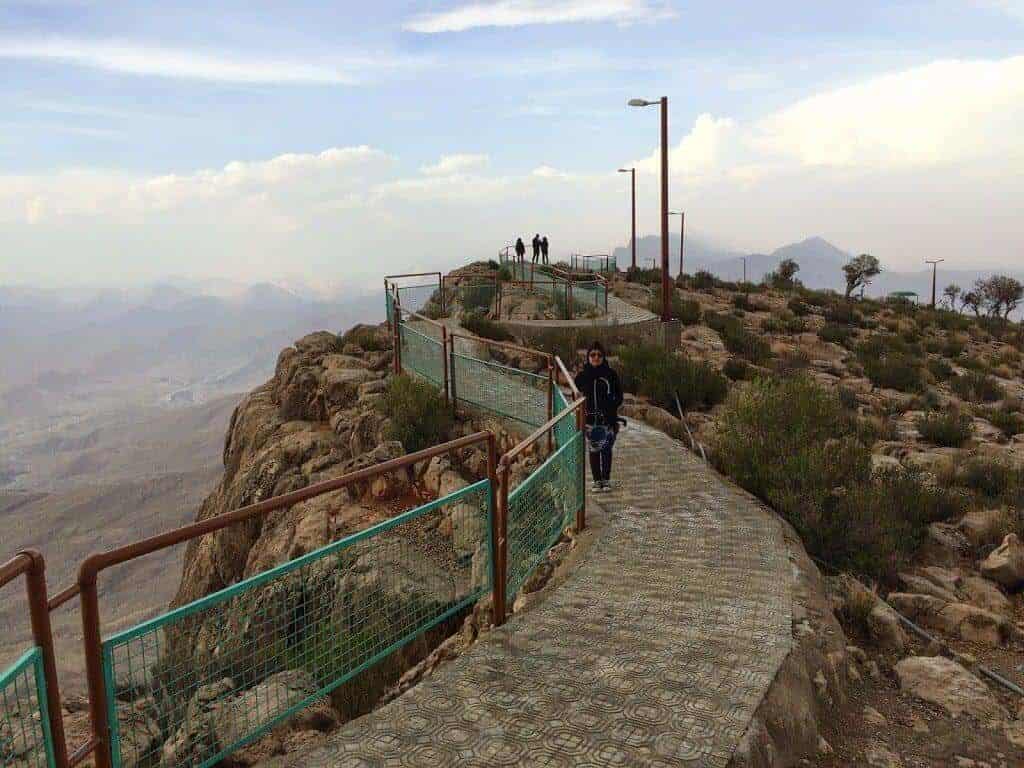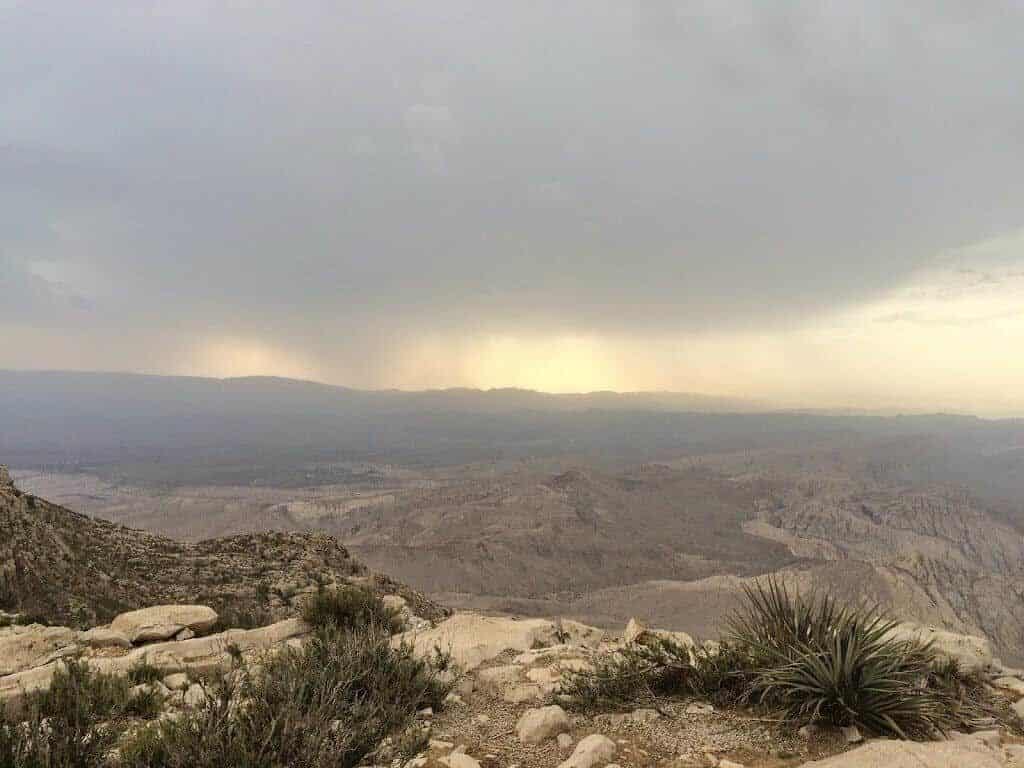 It started to rain! Not just only that, we sort of knew it was going to happen because we were high enough on the hill to actually SEE the rain coming towards us
Rarely have I ever seen such a beautiful sight. I didn't even notice that 3 hours had passed and it was nearing sundown. Before it got too dark we made our way back to camp
Time: 8 P.M
Place: Back to the 'Resort'
Hours into journey: 19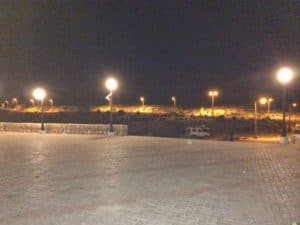 The people who were running the resort were nice enough to make us Pakoras just because it had rained. It added to the whole element of enjoying the awesome weather. Soon it became dark and the front lights of the driveway were lit up.
I have to admit it was a little scary looking out into the middle of nowhere, however it was pretty reassuring to see that there was not only a police mobile parked in front but also about 10-15 additional tourists turned up who had apparently driven all the way up the same route of our 3 hour adventure… in the dark!
Time: 12 A.M
Place: Still at Gorakh Resort
Hours into journey: 23
It just got colder as the night went by. It must have been close to 5 degrees. Wearing 3 layers of clothes the bonfire that the lit for us ahead of the front porch was a big relief. We were given an option to sleep in the camps or in the large hall indoors and everyone was given a sleeping bag. We choose to sleep indoors.
Time: 5:30 am
Place: Gorakh Resort – near Sunrise 
Hours into journey: 29
I woke up with a start at 5 am as my phone alarm rang. I had set it earlier because we had wanted to see the sunrise from atop the viewpoint. By the time we finally got up and freshened up we realized we had less than 5 minutes to sunrise. With more than a 10 minute walk up till the viewpoint…so what did we do?
We ran.
Running up there at full speed while half asleep in the freezing cold was probably more difficult than the 3 hour drive up the hill. We finally made it; and once again Gorakh Hill did not disappoint.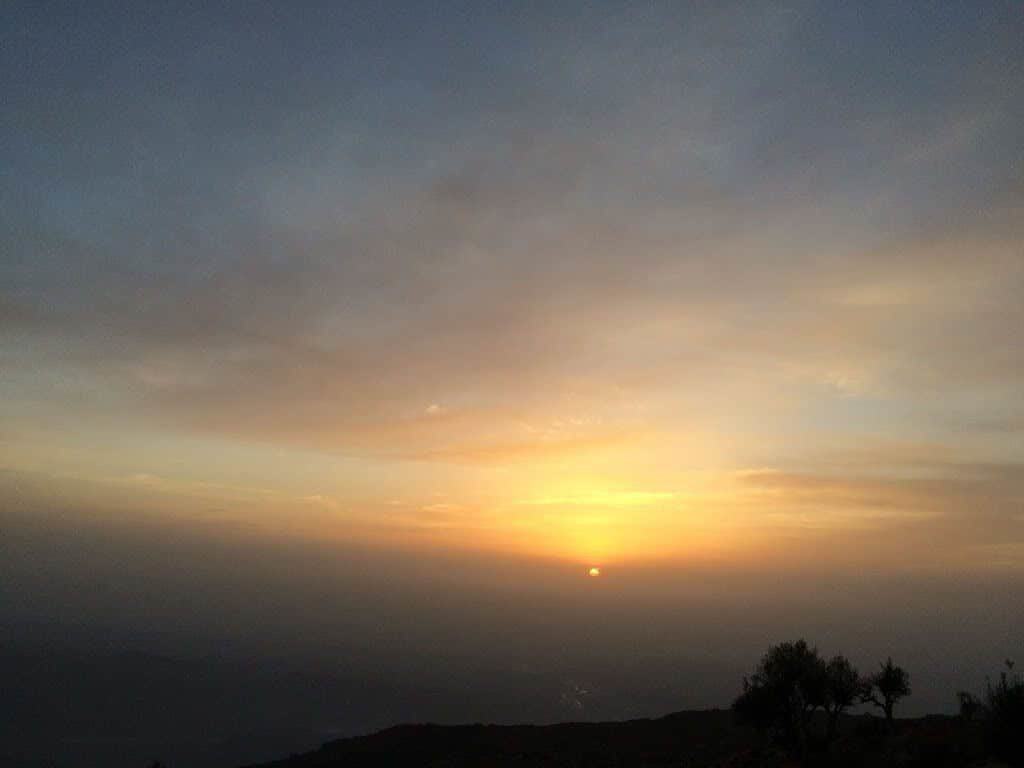 After an hour we went back down, were served breakfast ( which was by far the best meal we had since the trip started- paratha,khageena, and cholay with some bonus kaleji thrown in) After that it was time to pack up and head back down to leave.
Time: 10 A.M
Place: Khawal Luk Pass
Hours into journey: 29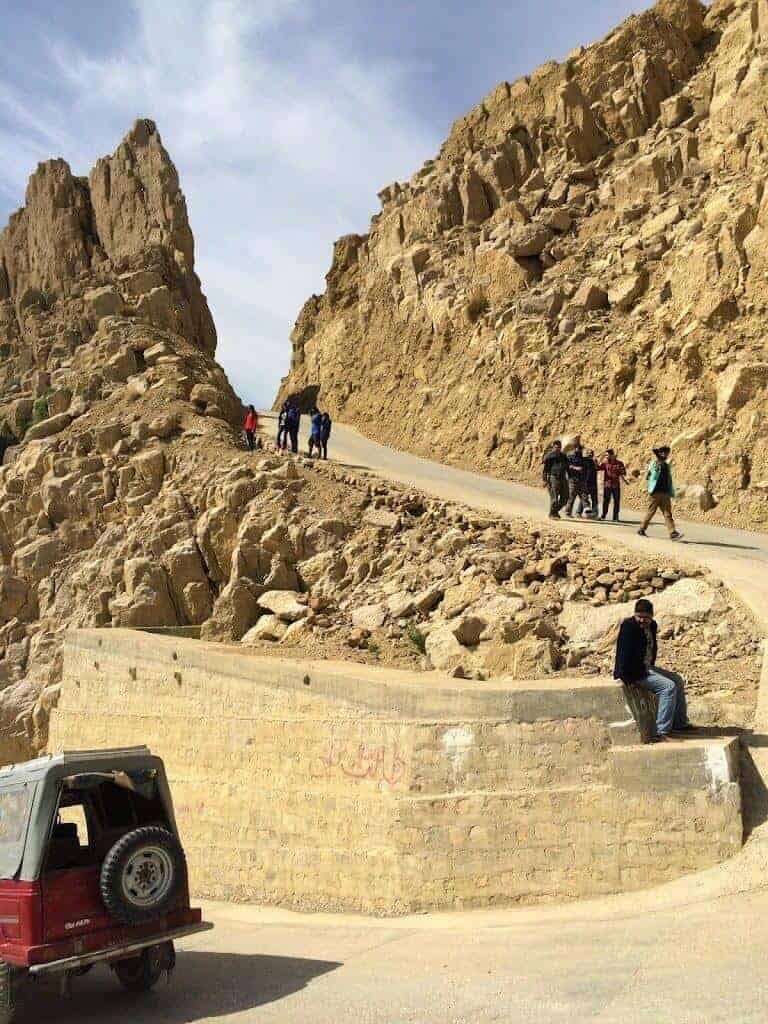 Driving down the same path was somehow more comfortable than going up. Along the way we stopped at Khawal Luk Pass for a photo op.
I am not too sure what the historical significance of this Pass is. However the view of it was pretty cool.
It was not so eventful on the way back down. We reached Johi around 1 pm. After which we were finally back in the comfortable air conditioned coaster and on our way back to Sehwan
Time: 2 PM-4PM
Place: Back at Sehwan & then Hyderabad
Hours into journey: 33-36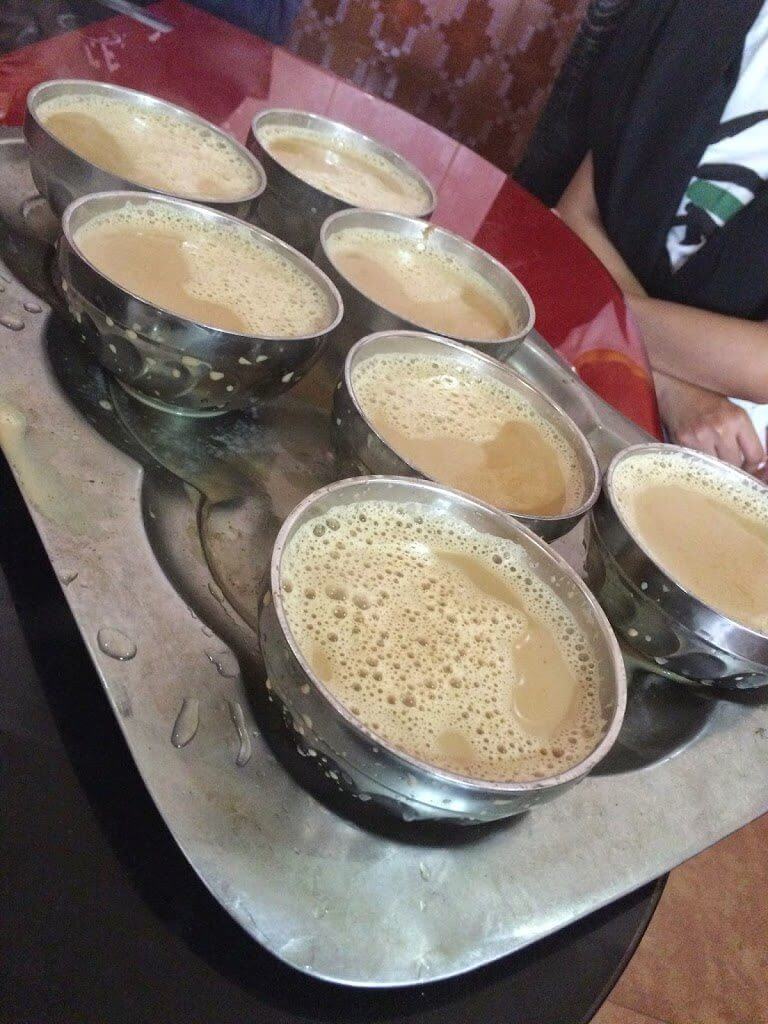 We stopped for a breather and lunch at Sehwan, and then for tea at a small restaurant at Hyderabad where we bought some tea which was served in bowls. The tea was nice enough, although a little over priced. At Rs 350 for about 7 cups of tea, I can only guess they charged us more because we looked like we were from out of town.
Time: 8 P.M
Place: Back to Karachi
Hours into journey: 40
 
Finally at 8 pm we arrived back to the place were our journey had started from. We had plenty of time to doze off in the bus so none of us were feeling too tired. Hair full of dust, hungry as ever, and totally in need of a shower, but overall feeling renewed from our small but action packed getaway. Below is the last photo I took of me before I got off the bus.
Verdict:
This trip was full of surprises, but most of them were pleasant ones. Gorakh hill truly is one of the hidden secrets of Sindh. Long kept away from the general public, it shows potential of being rapidly developed as a tourist spot. Do go there if you are up for the adventure & are ok with roughing it out a bit, it is certainly worth it. Take some good friends along & it will certainly become a trip which you will always remember.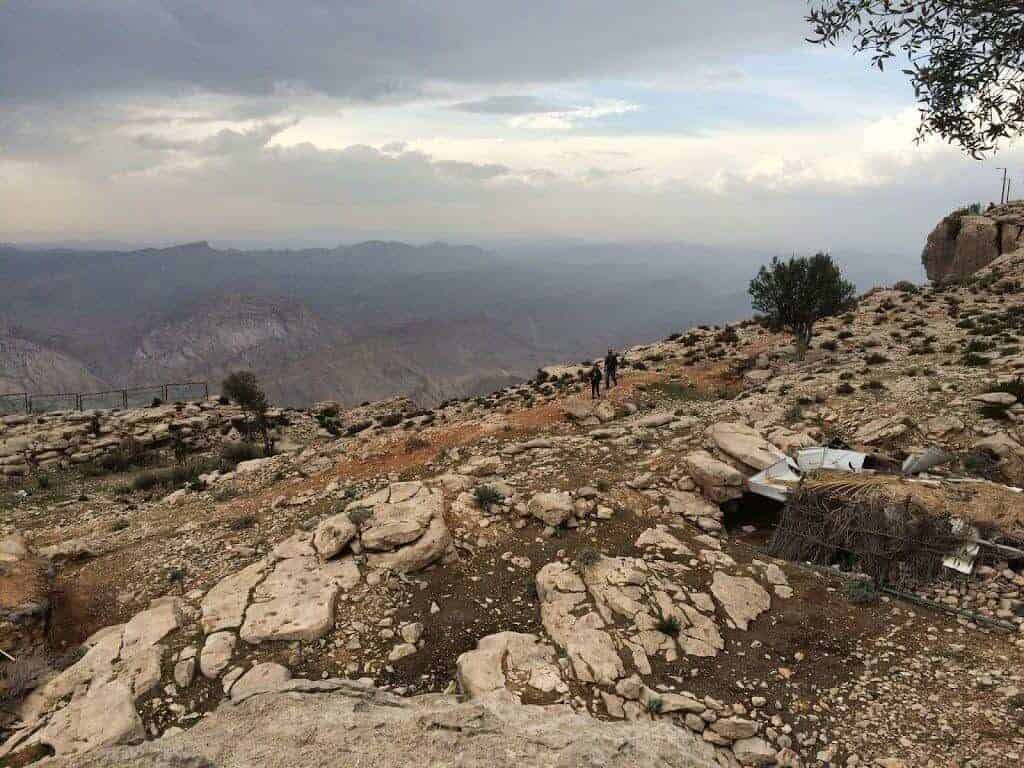 Gorakh Hill Quick Cheat Sheet – Things to take along
Bedsheet & Pillowcase
Warm Clothes
Dry Fruit & Candy
Mini First Aid Kit
Insect Repellent
Change of Clothes
Baby Wipes/Tissues
Hand Sanitizer
Sunglasses
Camera
Walking/Trekking Shoes
Rubber Sandals
Power Bank ( in case you take pictures with your phone)
Torch