One of the highlights of visiting Istanbul is the food. Their cuisine is simple yet tastes amazing. Mostly mild yet full of taste, one can eat the food here for days and not once miss the oily biryani & karhai back home .
Here is a list of some of the best foods. Please note, this is my version of what I think is the best, if there is something that you have tried that you think deserves mention – do let me know in the comments box!
(I'm proud to say that all pictures except for a few in this blog post were taken personally by me – the stock photos have been credited accordingly)
 1)Doner Kebab
This one is a no-brainer. Nothing says Istanbul like freshly grilled Doner Kabab. It's the first thing that anyone tries as soon as they get here and rightly so. The beef (although there usually a chicken option too) is grilled to perfection.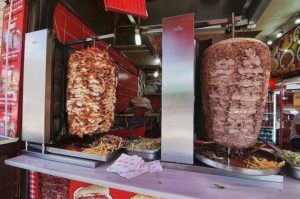 Although being essentially a "shawarma" type dish It's usually served with both, bread like a sandwhich,  or with rice ( which they call pilaf). Although you get Doner just about everywhere the local  steet side eats or small cafes in Old City are the best. Don't try this at a fancy restaurant in Taksim but rather go around the streets of Old City and see where the locals are eating the food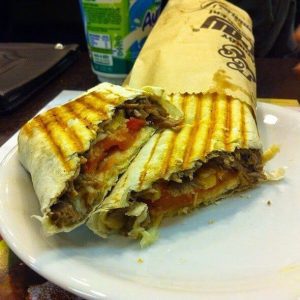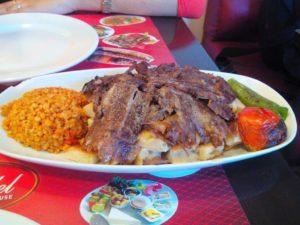 2)Pide (pronounced pee-day)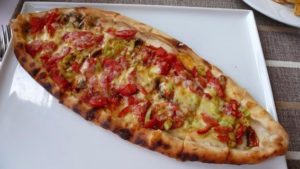 What can be best described as the Turkish version of thin crust pizza. Pide consists of flat, almost very thin bread topped with a layer of cheese and meat ( or vegetables). It's usually accompaied with fresh greens that you can put on top and then you can "roll" it and eat it, or have it cut into small pieces or easy snacking. The servings normally look very huge,but that is because the bread is rolled out so flat & thin. One person can easily eat one serving.
3) Simit
Simit is a must try. It's a dry, tough, circular shaped bread usually crusted with seaseme seeds. You get these from street vendors in just about every street corner of Istanbul.They can be eaten on their own although at times the vendors also serve them with ad-ons such as cream cheese or even Nutella!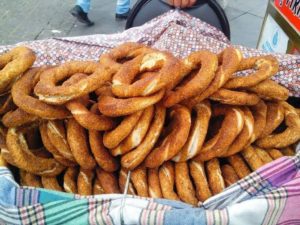 Although some people might find this bread a bit dry for their liking, I thought it was great and perfect for snacking on the go while exploring the streets of Istanbul.
4) Turkish Tea
Written as Cai, and pronounced Chai like we do back home. This is a no-miss.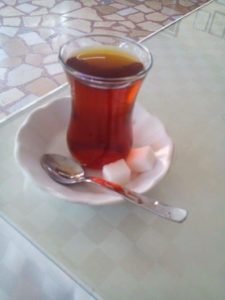 The locals have it here as often as water and at times up to 3-4 cups in one sitting. Served with sugar cubes it's like Kahva but with a deeper aroma & taste to it. People here are generous with tea, at many times they simply serve it complimentary after your meal.
5) Baklava 
No Istanbul experience is complete without freshly made, melt-in-your-mouth Baklava. This sweet is famous all over the middle east but there is just something different about eating it as soon as it is made right from the sweet store.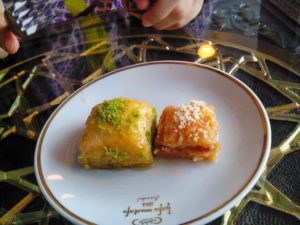 They come in countless varieties and flavors, chocolate, coconut, almond,pista. The combinations are endless.The best place by far to have this is at Hafiz Mustafa in Old City.
If you are staying at Old City it's really easy to find- but also see a reference map
 here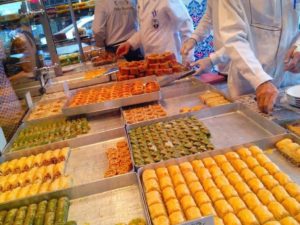 6) Mezze 
Mezze is basically a set of assorted snacks which are served cold and as a appetizer before meals. They have a range of really delicious things such as hummous, garlic yogurt, fresh cut vegetables, eggplant salad, olives,falafel, and bulgur rice. These are just a few of them, the combinations differ from one place to another but all of them have one thing in common; they taste absolutely amazing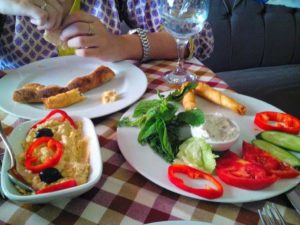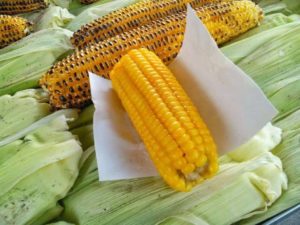 Reminiscent in a way of the Makai Wallas that we see back home, Misir is also sold via street vendors in every corner of Istanbul.
Ranging from TL 3
( in the more touristy
areas) to as low as TL 1.5 in the quieter places, this healthy snack is another great option for something to eat on the go.It tends to be a lot milder then what we eat back here so make sure you ask the vendor to be generous with the lemon or salt that they put over it.
8) Pastries 
By these I mean the desserts that they have. Check out the picture below taken at a bakery with a lot of local goodies.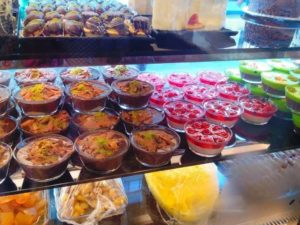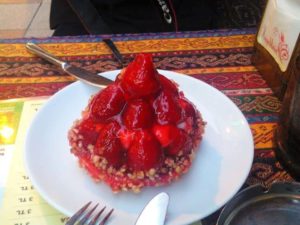 This was a strawberry tart that I tried with a friend at one of the local cafes. Topped generously with strawberries with a cream filling & chocolate base. It was like heaven in your mouth. I remember we had had an extremely tiring day and were cranky as hell when we stopped to try this out. After we had this it was like the whole world suddenly seemed better. A real formula for happiness if there was one.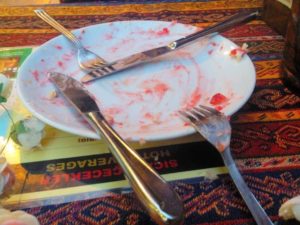 9)Kumpir ( Stuffed Baked Potato)
Kumpir has to be one of my most favorite things to eat in Istanbul. Available almost everywhere you go, it consists of a HUGE baked potato, first hollowed out and then mixed with up to 7-10  toppings of your choice and then scooped back into the 'jacket' of the potato.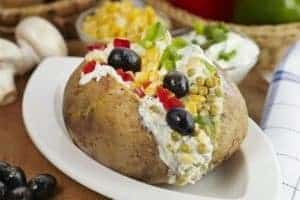 The toppings you can put range from simple butter and mayo to olives, couscous , sausages, corn, cheese, assorted vegetables, tuna etc and the prices varies with the number of toppings that you take.
My Advice- take a max of 4 toppings so you can savor the taste of the potato as well without confusing yourself with too many flavors
10) Kunefa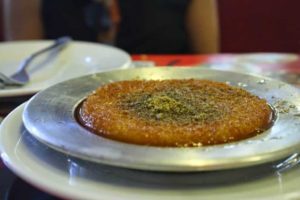 *Sigh* ( yes that is the emotion one feels while reminiscing about this dish)  If you think the above Strawberry pastry takes you to a happy place, then this famous middle eastern sweet dish is certainly at par.
It's basically a pastry of vermicelli stuffed with a custard like cream cheese, or simply custard. The recipe changes from place to place. It will somehow remind you somehow of sheer korma back home – even though it is in solid form. Except that I think it is actually more awesome.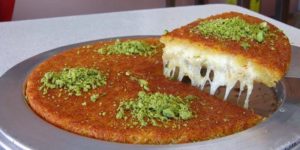 11) Turkish Coffee
Once again a trademark item. No trip to Istanbul is complete without trying this. To be honest I had to think a few times before putting it on this list, but I eventually felt it deserves a mention.
For those of us used to drinking sweet, milky coffee, this one is something you will probably will not like. Turkish Coffee is intensely strong and tastes something like mud ( not that I have had mud before but what I imagine it will taste like) Strong,heady and full of flavor, a tiny cup of this will not even let 4 cubes of sugar change it's taste.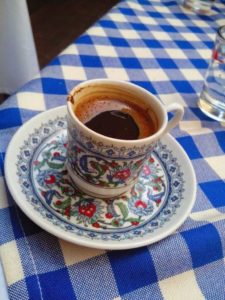 Still, there is just something about this drink. Even though I am not a very big fan of coffee I probably drank this 5-6 times during my trip so I could just figure out what I exactly felt about this drink. I couldn't decide
12) Manti ( Ravioli)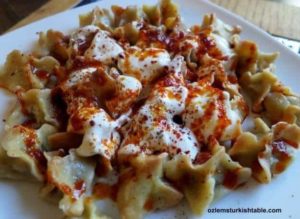 The Turkish version of this Italian dish is something quite different from most foods. The dumplings are made of pasta stuffed with beef or mutton mince & generously covered with a garlic yogurt sauce. It's something like a combination of white Al-Fredo and Bolognese, except it's probably a little healthier owning to the fact that the sauce is yogurt based instead of cream.
Bonus Food Item: Kokorech 
I HAD to include this here. Kokorech is basically… goat intestines.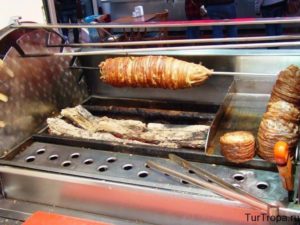 Seems strange to us but it is a delicacy there. Also found very easily from almost any cafe. It's intense and very meaty- only try it if you feel you are brave enough.Served with bread like a sandwhich –  all I could manage was one bite. This one is a for serious food experimenting enthusiasts!
Do share your food experiences with me as well. Happy Eating!