Continuing from Part I:
I stood there staring at the open bathroom not knowing how on earth I would be able to use it without falling over. I took a deep breath, braced myself for the worst and went inside. I managed finally, it wasn't as scary as it seemed it would be nor did I fall and break my head even though the train was  moving (which was my biggest fear anyway).
It was not well into the night and there seemed to be nothing else to do but sleep off. We each chose a berth. One thing I had no idea about is that the air-conditioning gets absolutely FREEZING in the first compartments at night.I had to take out my shawl and hoodie and wear both so I would be comfortable. Being the insomniac that I am, I took the middle booth so I would be able to see out the window even while lying down.
There wasn't much that could see throughout the night; just dim lights of each station stop,sleepy passers-by and at times and in the distance, the fainest outline of houses with lights burning in the distance; I don't think one could expect more than this since at this point I assumed we were at some point deep in the interior of Sindh.
After what seemed like ages of randomly surfing through Facebook on my phone (the phone kept switching from 4G to EDGE off and on but it was good enough) I fell alseep.
I woke up to a beautiful cloudy morning. I was expecting it to be sunny and hot outside considering we were almost about enter Punjab and it was early May, but there was no such thing here. It was cloudy and windy and we even saw the occasional dust storms on the way.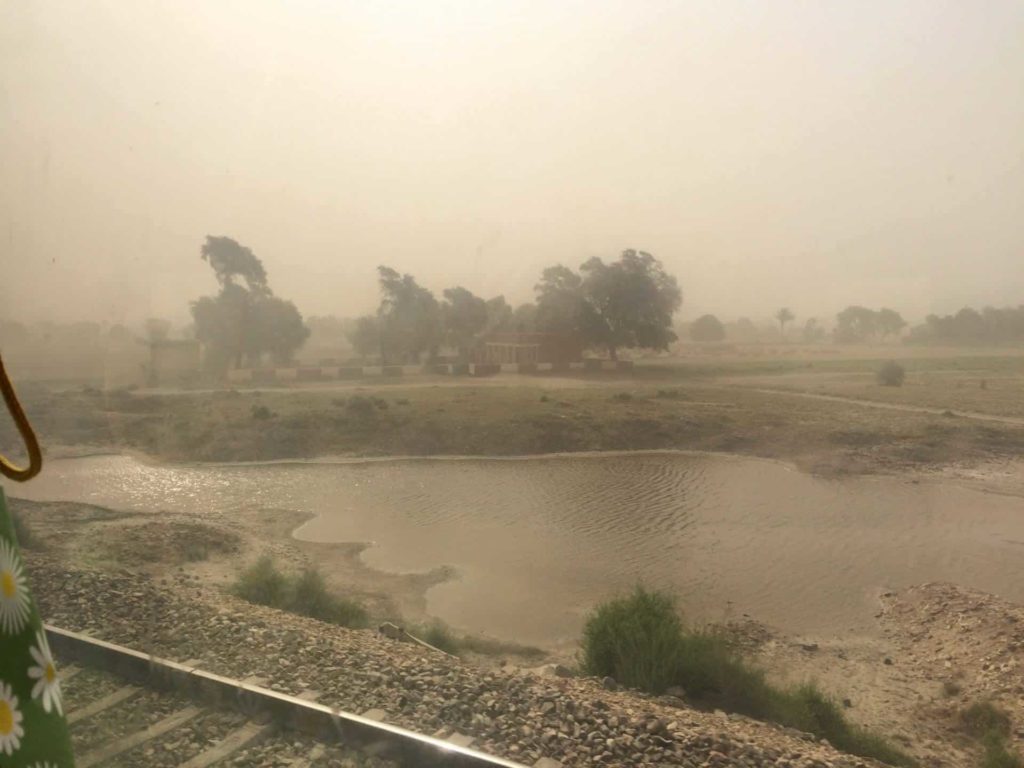 The dust storms soon gave away to clearer views and open green and yellow fields, and we got to see an interesting mix of animals grazing along the way. Cows,Buffalo's and Camels. I only a picture of the camels for some reason, now looking back, I can't remember why.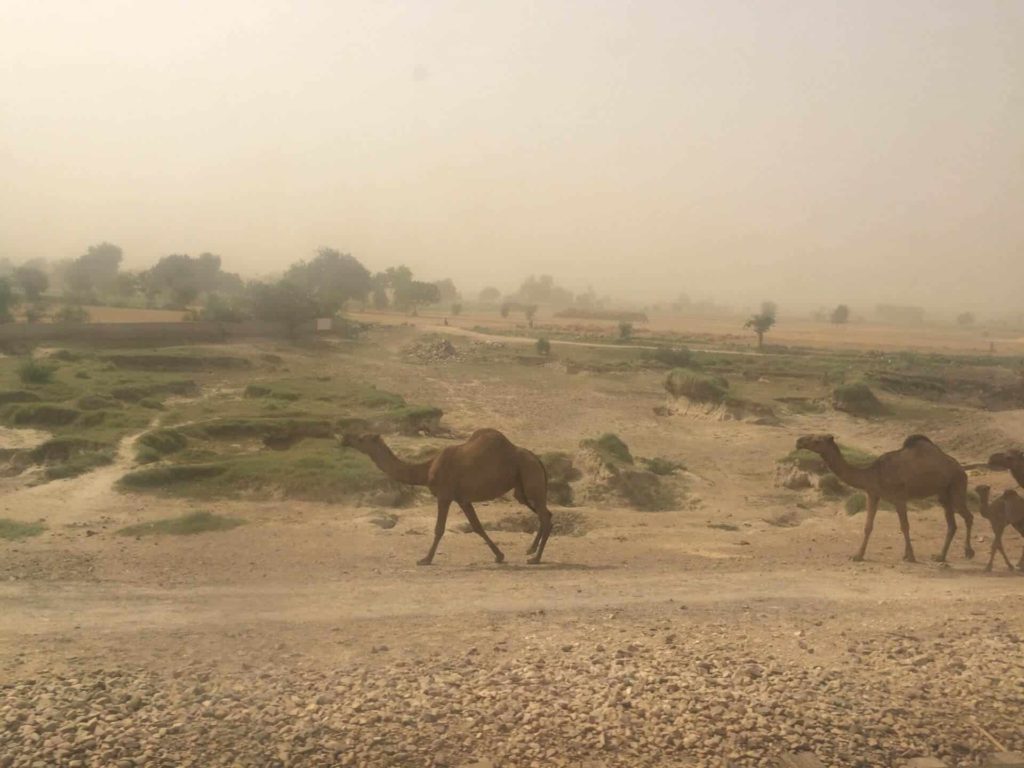 Once we were tired of looking out the window, we went on exploring whatever part of the train we could get access to. Moving down the boogies, we entered one part of the train whose carriage looked very different from ours. It was cleaner, painted better and more quiet. It was the fanciest interior of a train I had ever seen in Pakistan. These were apparently the executive/business class bogies that sometimes are attached to trains, each cabin has spacious room for 3 people AND an attached bathroom. I think I would really like to try one of these out someday.
Once even this exploring was over, it was back to killing time again. It's funny how on a regular day time zooms by without even realizing it and how much it slows down when you are pretty much just confined to a tin box. It had been just only 15-16 hours in the train at this point and it seemed like the journey would never end, the next big idea we had was to simply get off and look at every major train station stop that Khyber Mail stopped at…
End of Part 2
Watch out for part 3 next!