Ziplining is a little known but extremely fun activity that you can try out in many places in the world. It consists of a pulley suspended on a cable running through trees or plaforms. You are harnessed to a pulley which enables to you move from one tree top/platform to another.
It's popular in many parts of the world such as South Africa, Costa Rica and Florida. It is however, very well known in Thailand too run by a company called Tree Top Asia , the activity is called "Flight of the Gibbon" which I went to while I was in Thailand.
This company operates in various cities in Thailand. I went to the one  in Chonburi Province which is outside of Bangkok.
The most exciting part of this zipline is that it exists in an actual rainforest.
The tour starts by picking you up from your Bangkok hotel and it about a 2 or 3 hour drive to the province. Once you reach the resort, you are given refreshments and then a full safety briefing of the entire activity.
All your belongings are put away in lockers, your hair is tied up in bandanas , you are given hard hats to wear and given a safety jacket to wear over your clothes.
It starts off with about a 20 minute trek through the rain forest. This is pretty exciting, because it is pretty much all nature. Broken paths, dense trees everywhere, you cant even see the sky due to the heavy cover of the forest! Make sure you have very sturdy shoes while walking here because the path is covered with mud and rocks and you never know what insects might be around on the ground!
I was wondering if we would come across any snakes there but thankfully never saw or heard any.
Once you reach the end of the trail you notice a clearing in the area.  Where if you look up there are small platforms made up on the trees like a treehouse, you need to climb up on a wooden staircase about 50 meters up from which you get to see a beautiful birds eye view of the rainforest – you can even occasionally see the Gibbons jumping around from one tree to the other – these are the ones that inspired the name of this activity here!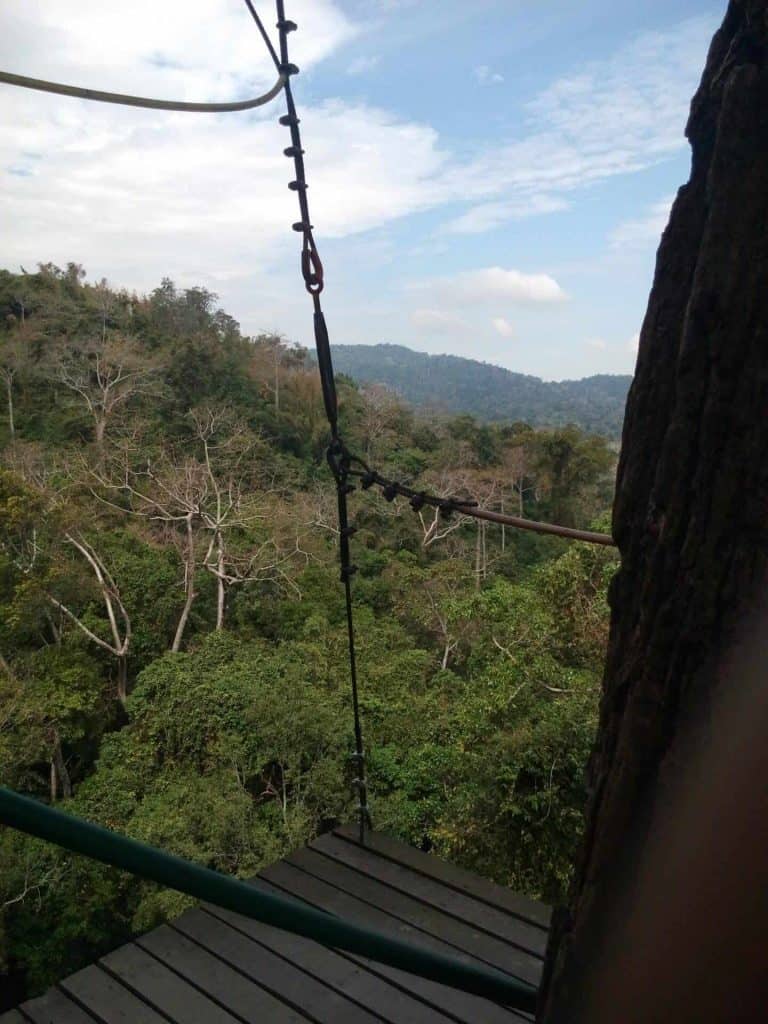 After taking in the few for a few minutes the safety instructions are given to you again:
Under any circumstance DO NOT touch the cable which the pulley is attached to. The cable is rough and can give you a terrible cut/burn due to friction produced while gliding on it
You are harnessed safely enough to keep your hands free but if you do want to hold on to something put your hands on TOP of the pulley and no where else
Once you reach the other slide of the platform, keep your knees bent at 90 degrees but keep your feet up so you can easily jump on the next platform when you reach – Keeping your legs stiff in front of you can seriously give you a very nasty knee sprain due to the impact of speed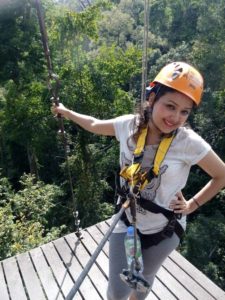 All the above sound a bit intimidating when you are suspended 50-75 meters in the air from a tree top and pushed down the cable to give you momentum- the first time was absolutely terrifying for me – flying through the air with nothing below but a dense rainforest – but it passes by in a matter of 10-15 seconds and before you know it you have landed on the other side with the instructor ready to receive you at the other end yelling to you as a reminder "feet up! Feet up"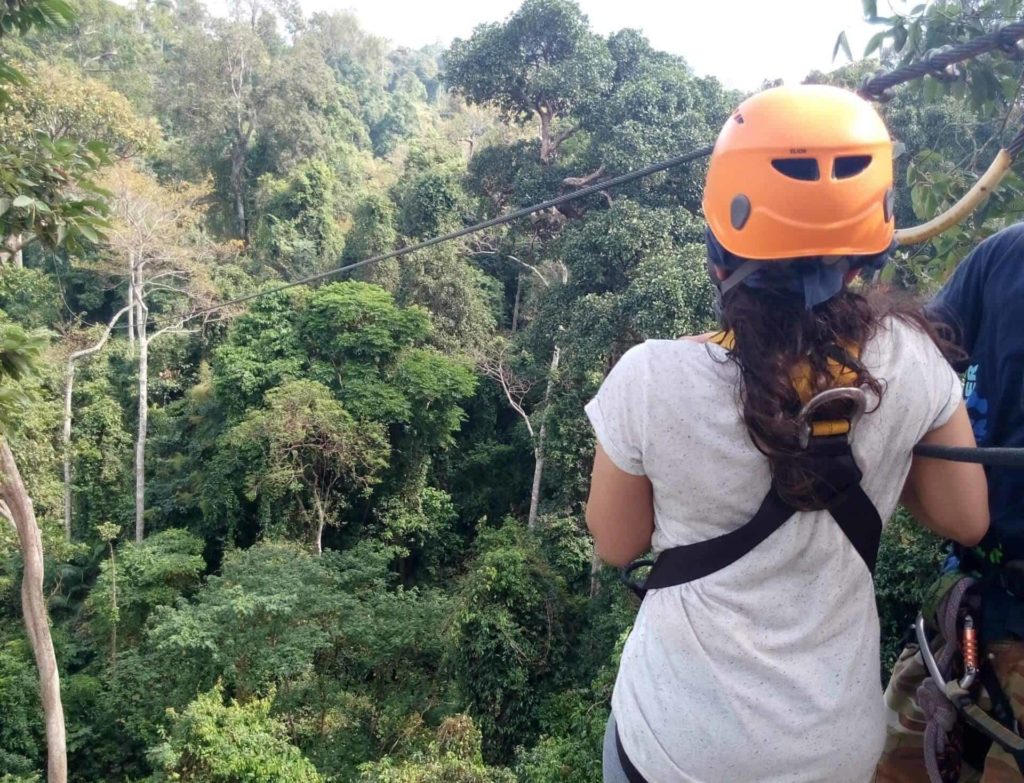 ( I forgot to mention there are 2 instructors in every group- one who goes ahead of you and one who stays behind you reminding and reassuring you at every stop what you need to do)
It takes a good few minutes to get over the thrill of the first platform. I was in shock when I asked how many are there and I was told there are a total of 17 before the whole tour ends!
Each of the 17 are slightly different- some are as long as a 100 meters , some require you to swing down to a lower part of the forest and some bring you back up. Each platform has a thrill of its own.
After the first 5-6 glides you start to overcome your fear, and you can even use your free hands to take a selfie or record your own video on your phone ( you need to keep a strong grip though cause if you drop your phone while gliding, its gone!) – another alternative could be that you tie your phone with a string attached to your saftey harness but it depends if your phone casing allows that.
Another alternative can be to use a selfie stick with a low cost digital camera attached to it, so in case you do drop it, it wont hurt so much, all you need to do is not to forget ( in the excitement of taking your video) to bend your knees while you land on to platforms!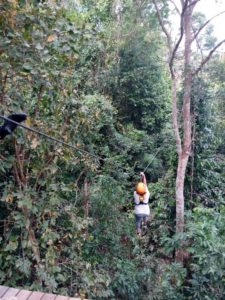 At the last platform they even take a photo of you while you are gliding so you can buy those too if you wish.
All in all an amazing experience. A must do next time you visit Thailand. The a full day trip costs about PKR 10,000-15,000 depending on what add ons you get. ( for an additional cost you are given a tour to a nearby open zoo as well). Even though it's a bit on the expensive side for a one day activity, its worth every penny.
Somethings to remember:
-Keep a bottle of water with you ( yes you can carry it, just ask the instructor to attach it to your safety jacket
-Wear sturdy but comfortable shoes
-Wear comfortable clothes – better if you don't wear jeans but rather tights, trousers or shorts with a simple loose T-shirt
– Don't forget the sunblock