Kashmir is known as heaven on earth; a Google search will show you beautiful, lush mountains, endless meadows, flowing rivers and bright blue skies. However, none of this can compare when you actually witness it in person.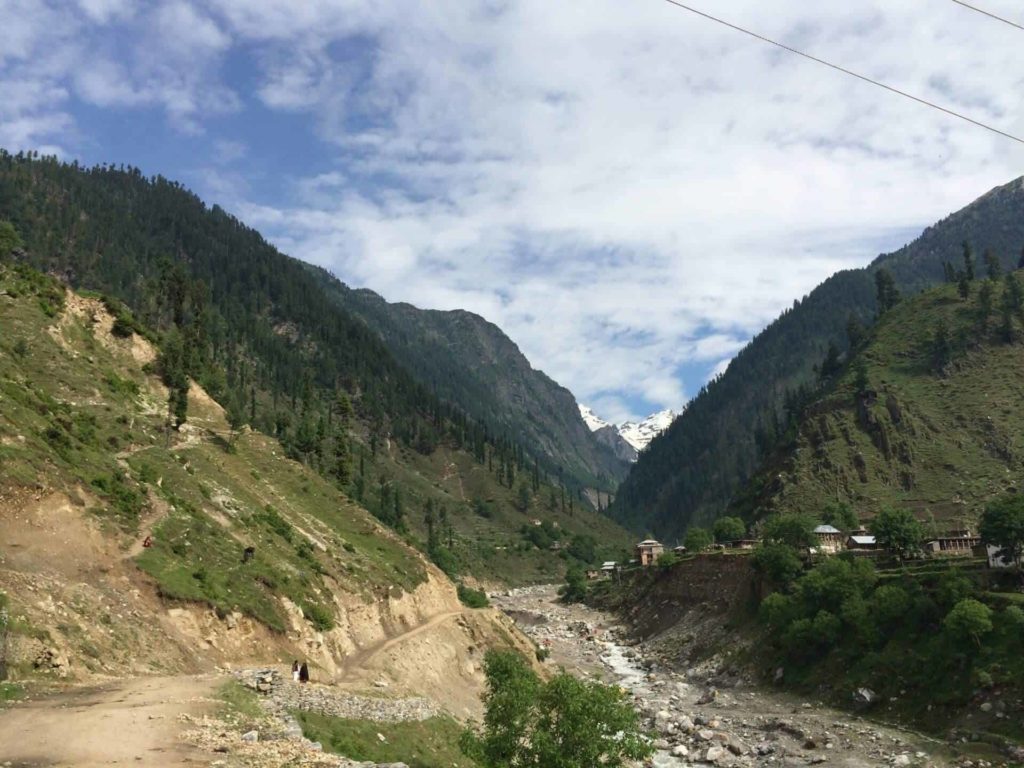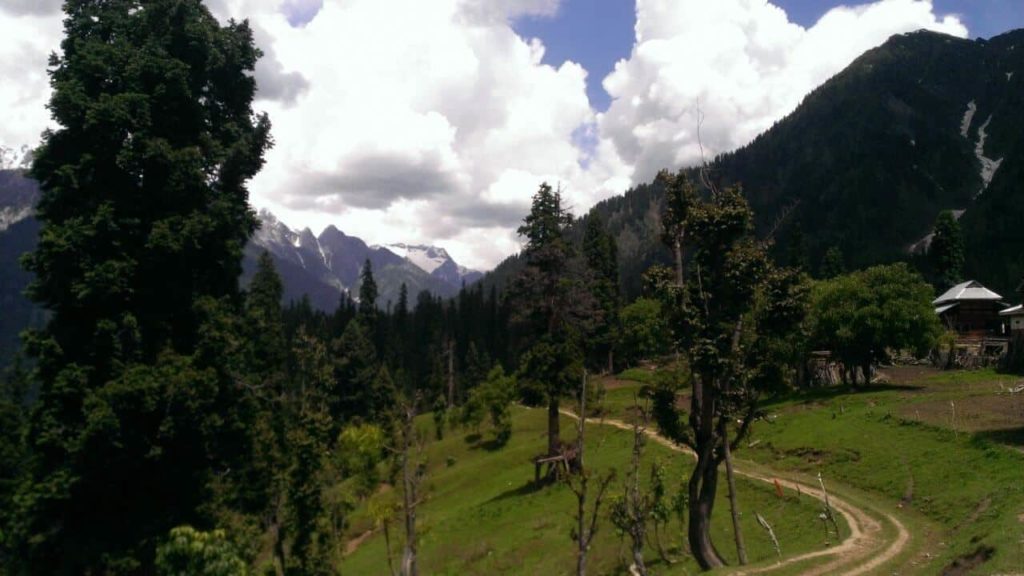 I visited Kashmir with Royal Tourism Pakistan this June; a whirlwind and adventurous 3 day trip that showed us some of the best things Kashmir has to offer.
Keran
Keran is a village and tourist resort in Neelam Valley, Azad Kashmir, Pakistan. It is located 95 kilometers  from Muzaffarabad on the bank of Neelam River at the altitude of 1,524 meters.
Google Maps currently does not show a road route because the area is not very structured. But a road exists for sure; usually taken by 4 wheel drives/jeeps or powerful coasters. Regular cars would probably have a hard time getting through the terrain.
It is by far one of the most frequented places in this area. Quite touristy and its pretty easy to find a PCO to make phone calls (networks don't really work in this part of Kashmir) or purchase some groceries from small stores.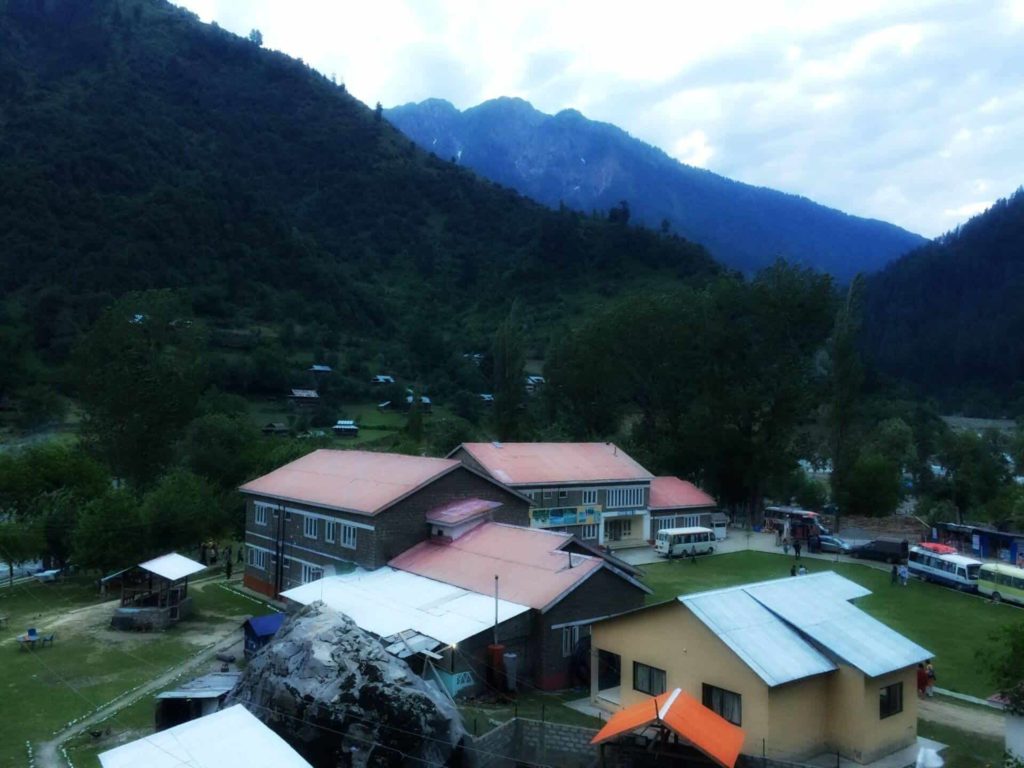 Because of the rush of tourist the areas where the hotels/rest houses are stay pretty lively and well lit up till late at night. You can opt to stay indoors or camp just outside the resort(s).Won't really call roughing it since it's like a small town on its own.
The beautiful view of the mountains, the river the (relatively) easy accessibility by Neelam road from Muzaffarabad, make it pretty crowded during the peak seasons.
I say relative because the road is quite adventurous as roads usually are in north Pakistan, however this seems timid compared to how roads change once further up north
The facilities available here make it a good family vacation spot where adults and kids and even elders can enjoy themselves alike.
Sharda
Being near the LOC and India Sharda is a beautiful small town, this is about as close to India as you can get from the North.
It is located on the banks of the Neelum River at an altitude of 1981m, about 136 kilometers Northeast of Muzafarabad.  Sharda is accessible by Neelam road from Muzaffarabad. Buses run daily between Muzaffarabad and Sharda in summer months and good weather.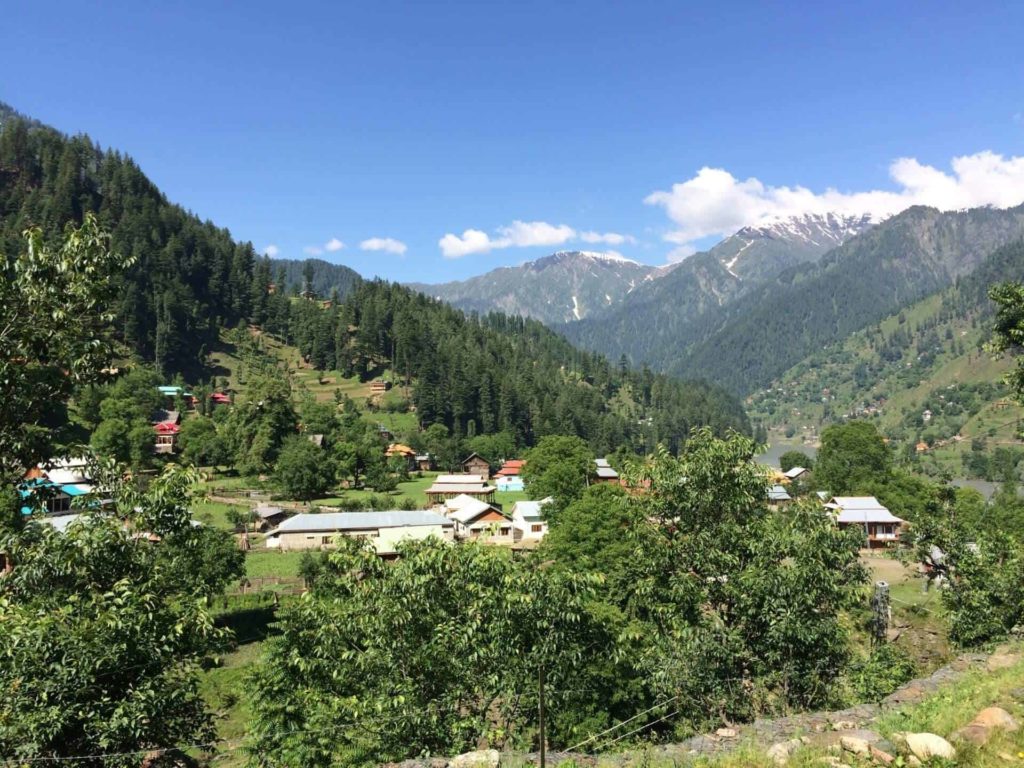 The town is named after the Hindu goddess Sharada, ( also known as Saraswati)  who represents learning. The town  used to be a center of learning itself as well  and the ruins of the famous temple and Hindu pilgrimage site Sharada Peeth.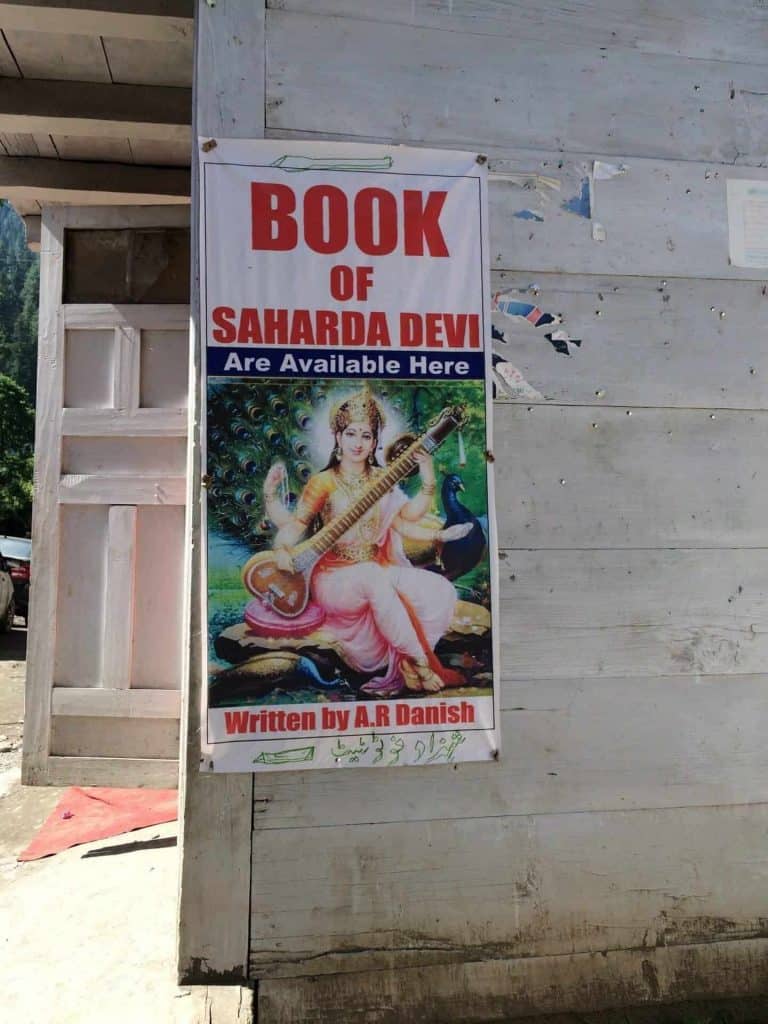 Walking up to Sharada Peeth takes you back years in time, the cobbled, broken roads, the ancient steps made of stone, weathered by time and broken by previous earthquakes. Viewed from the top it makes you feel like you are looking at a very  VERY miniature version of Machu Pichu in Peru.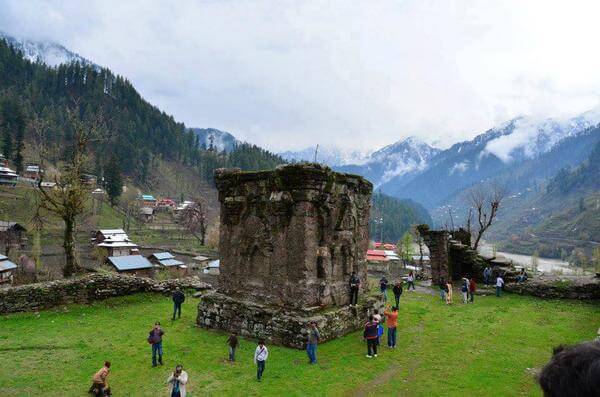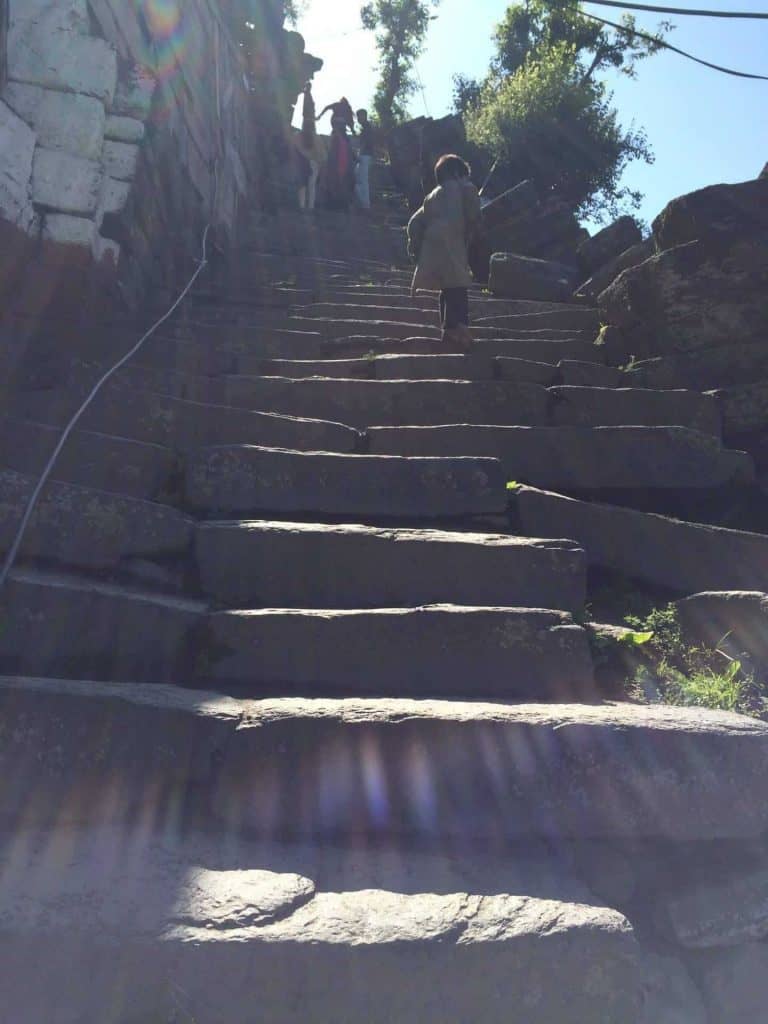 Apart from spending some time watching the beautiful flowing Neelum River, do take some time out to take a stroll around the local market place which has many stores selling a cute assortment of various items. Perfect for a small souvenir or two.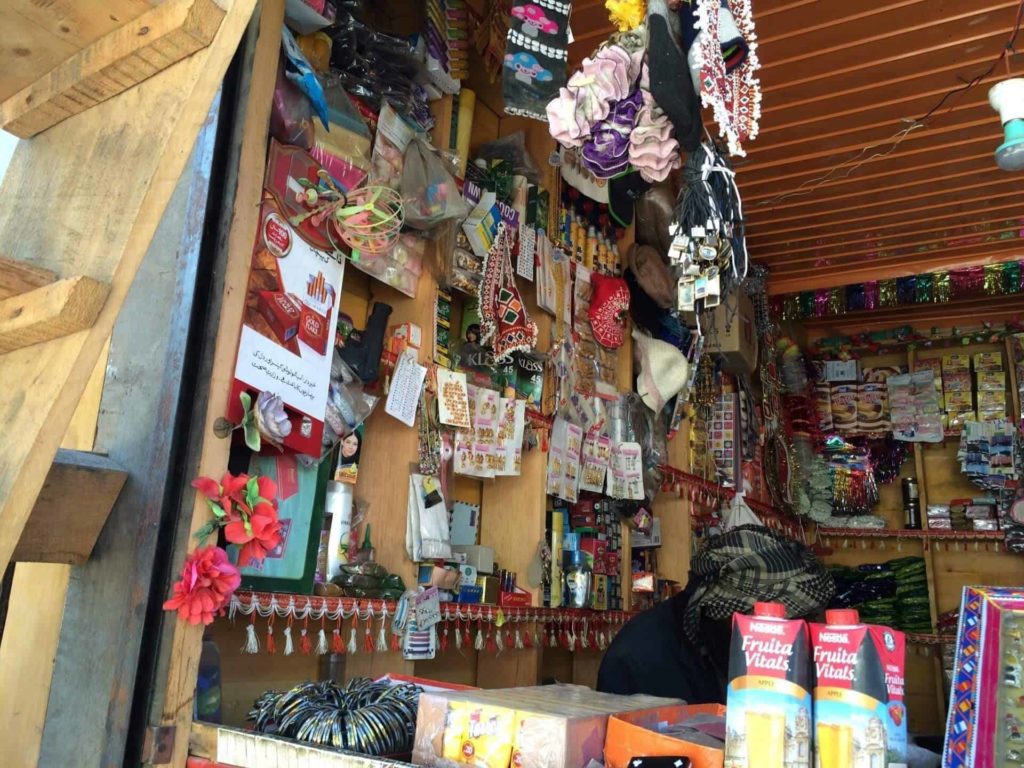 Also don't forget to stop by any of the fruit vendors for some fresh fruit. (Plums and Apricots seem to be the best here during the summer months) The vendors will wash it for you in fresh spring water which will chill them and make an excellent refreshing snack.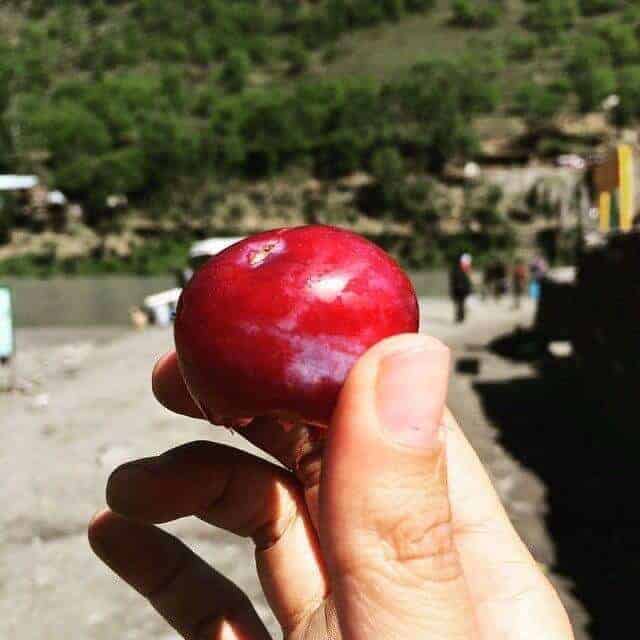 Kel
Hidden deep in the heart of Kashmir is a beautiful, almost enchanted little village called Kel. At about 150 KM ahead of Muzaffarabad, it is one of the hardest places to reach, being approx a 10-12 hour drive from Muzaffarabad with frequent landslides during summers and snow blockages during winters.
Kel is indeed magical. The Neelum River flows here too, and the lush green mountains are now also frequented with views of snow capped peaks as well as this is much further up north.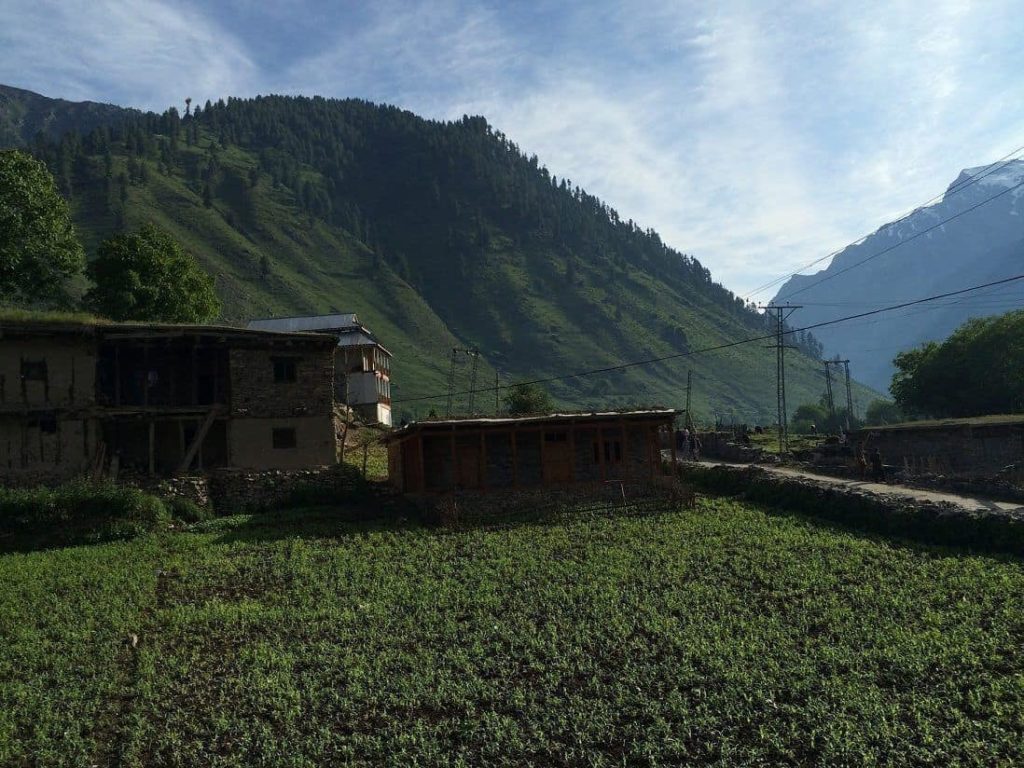 There is just something about the way the colors look in this part of the world. The green have never seemed greener and the sky looks painted bluest blue you have ever seen.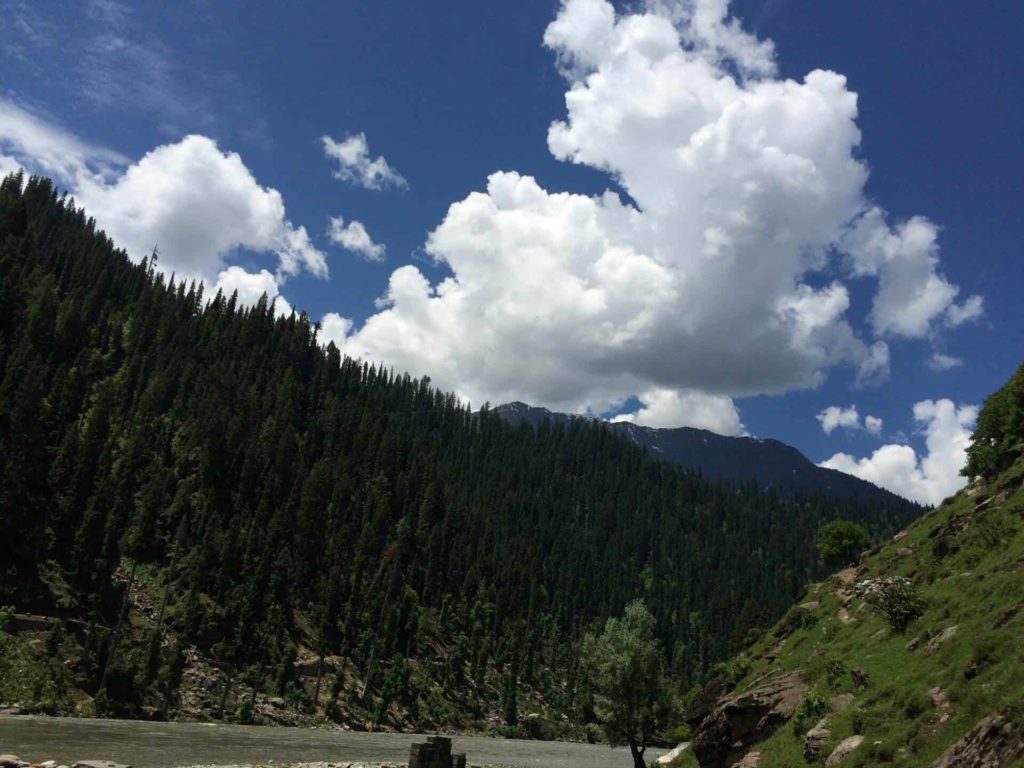 Go down near the river bank and cross the main river via bridge ( which could not be photographed as it was near an army checkpost) and you are on your way to a place that is the very gem of Kashmir; Arang Kel
Arang Kel
If you feel that Kel is a thing of beauty this place holds even a more beautiful secret known as Arang Kel . A village about 2 km from Kel which can only be accessed by foot – and when I say 2km I mean about 2km UPWARDS as there is a considerable climb up a hill to get this village.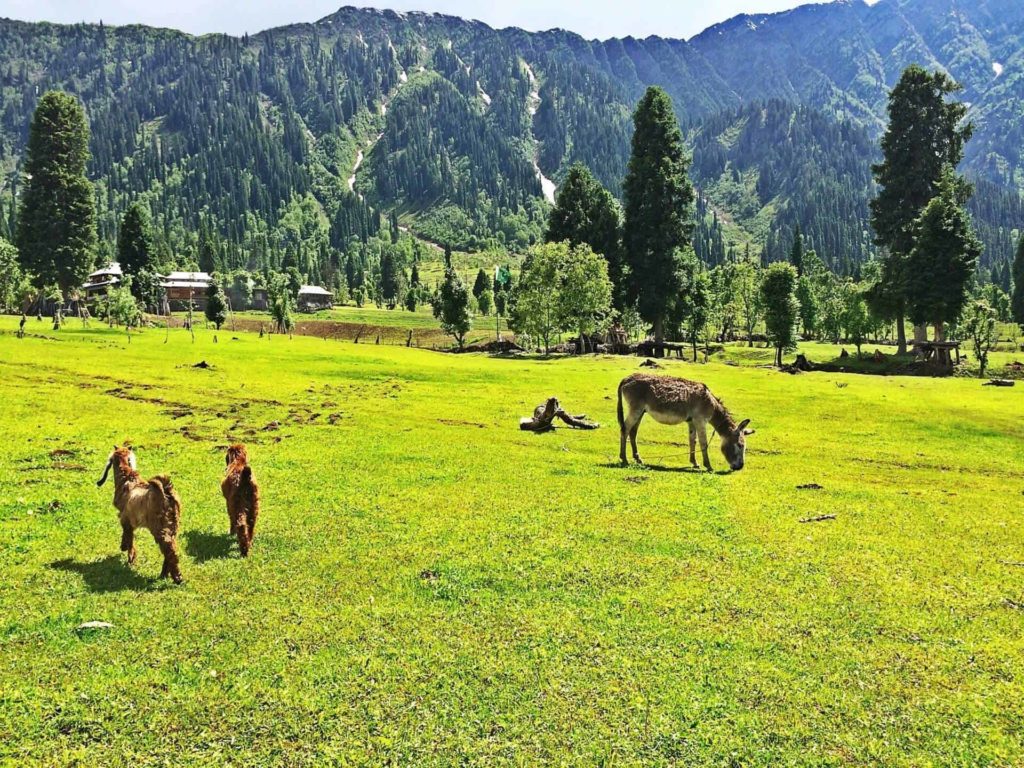 One needs a supply of water and preferably a few energy bars to take this hike . Also a hiking stick , a hat and sturdy shoes are very important .Do try to carry as minimum as possible though since hiking up to Kel with a heavy backpack is not easy.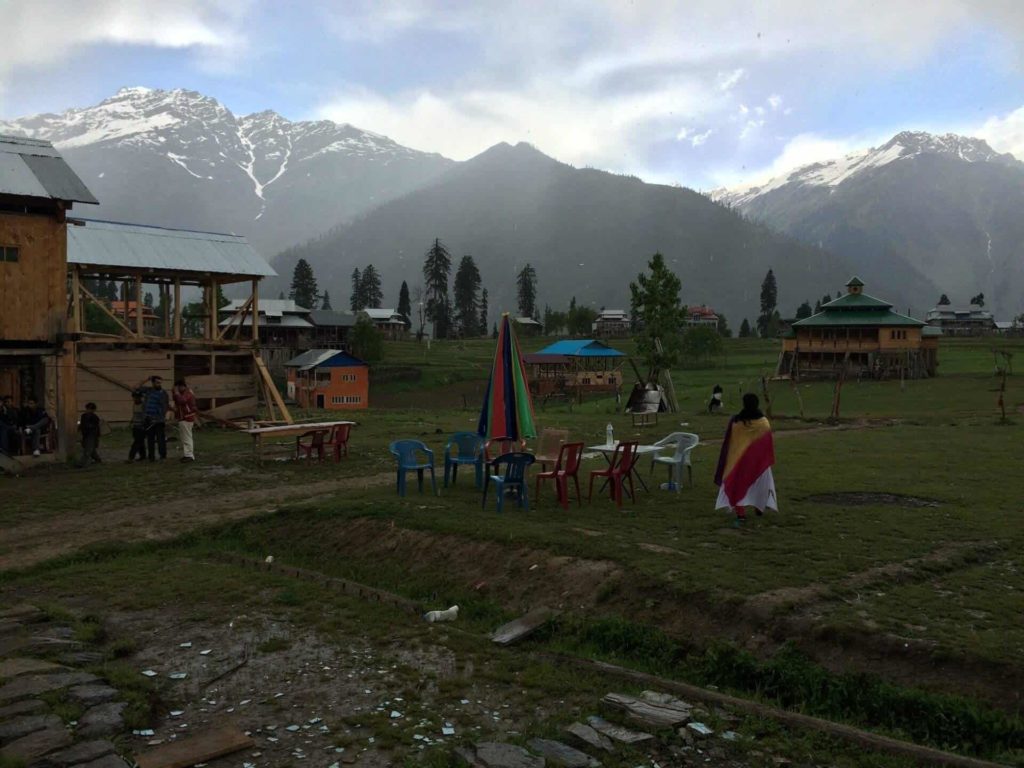 The trail up to Arang Kel is has its own beauty as well, you can feel lost In a forest of wonders , at times full of lush green grass and beautiful flowers , small streams and bridges , and at times nothing but stretches of muddy land and hills to climb.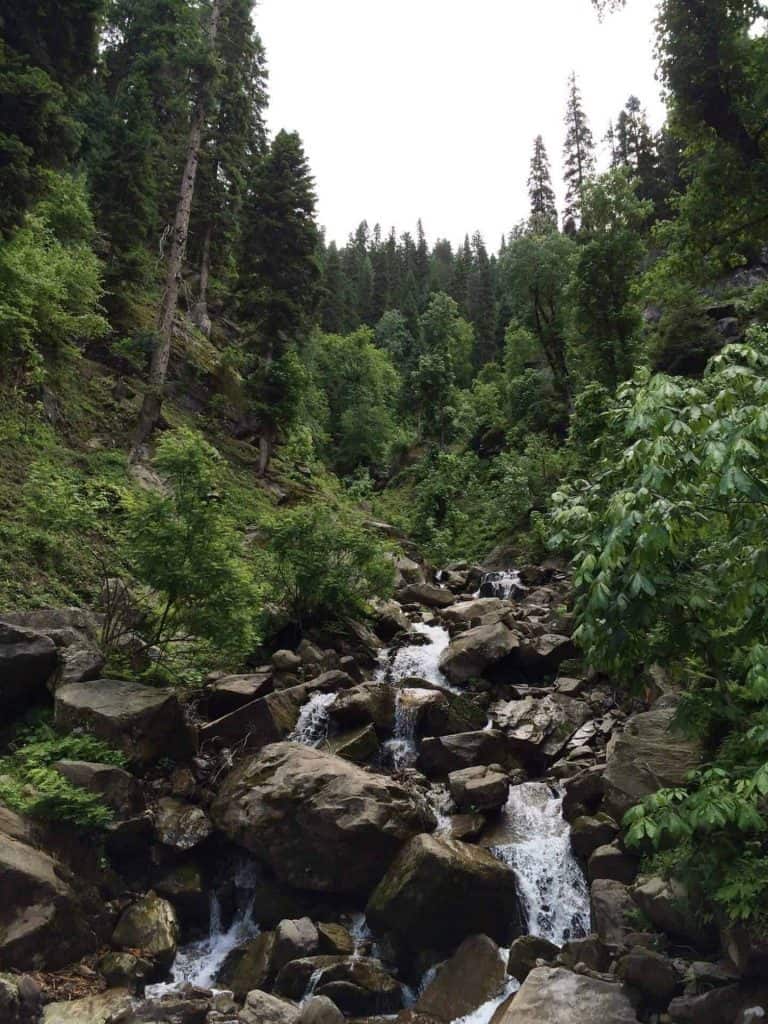 If this is your first time , better to have someone accompany who knows the trail and always go there ( and come back down) while there is still daylight.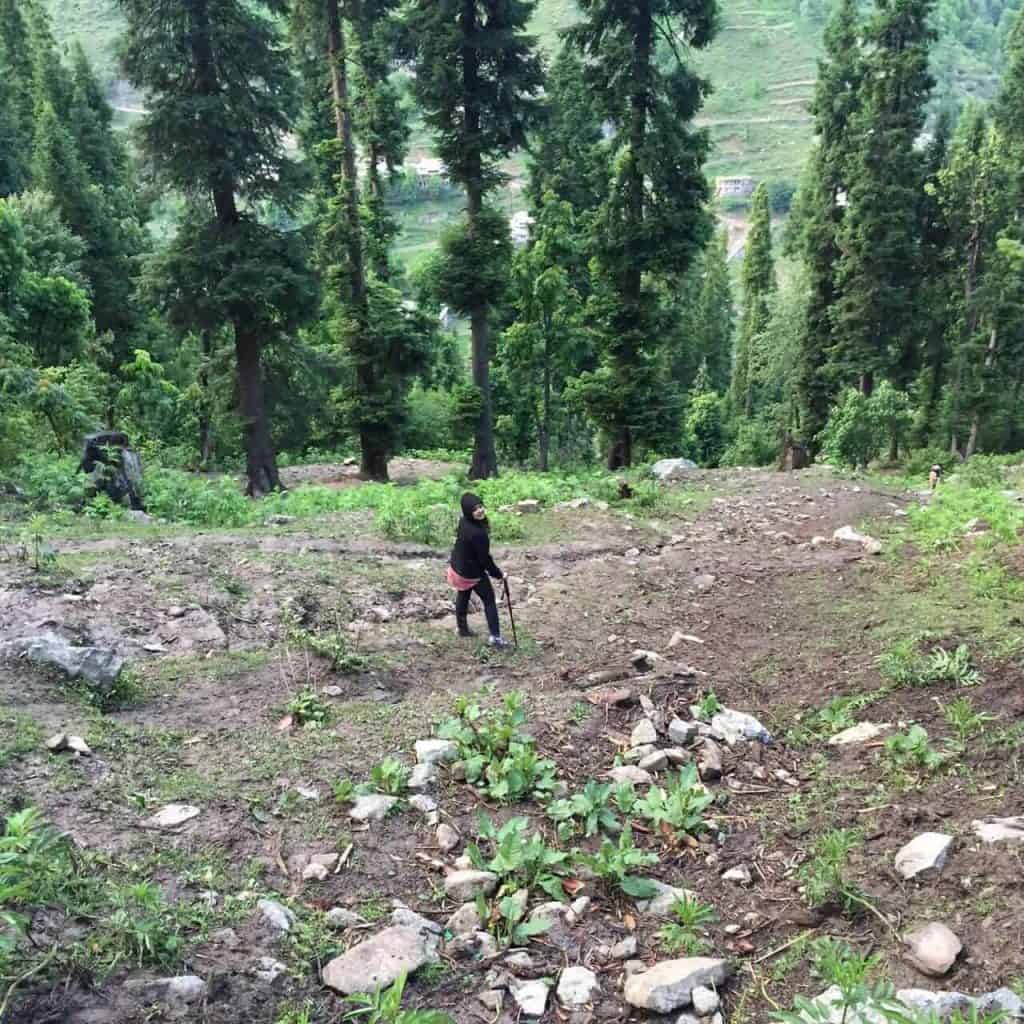 If I had to describe a place that is so beautiful it seems unreal it would have to be here.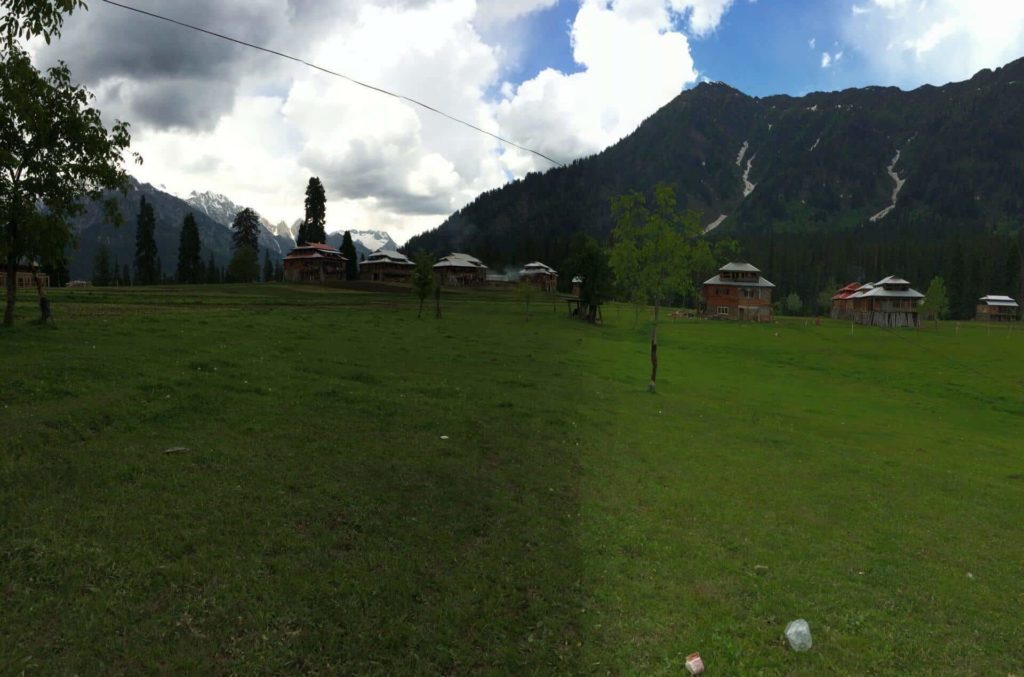 Surrounded by both green and snowy mountains , this little village has only wooden houses, lush meadows as far removed from the outside world that I have ever been.
This has to be the most gorgeous place in Pakistan that I have seen so far – definitely the highlight of the trip to Kashmir.
Usually one takes a day trip where they go early in the morning and have lunch or tea and return down after some hours. but there are camping arrangements too, if one wishes to spend some more time here. I would certainly love to, to be able to see what the sunrise and sundown look like here.
Summer is on now and the peak season to visit Kashmir stays till August. So start making your plans soon. You can book through my Facebook page as well for custom trips.
Happy travels!